BY MARK RABAGO
Saipan Correspondent
GARAPAN, Saipan — Under its five-year action plan, the CNMI Broadband Policy and Development Office is committed to "chasing zero."
The Broadband Equity and Access Deployment program or BEAD is a $42 billion federal grant program intended to bring broadband internet to all Americans that will allow it to do that.
The U.S. Digital Equity Act established three grant programs that promote digital equity and inclusion, for which jurisdictions apply.
The newly established agency under the Office of the Governor could therefore set a goal to reduce broadband service costs for residents to nothing to make it even more accessible.
The recent BEAD award of $80.7 million from the Telecommunications and Information Administration "Internet for All" initiative will enable the NMI to deploy affordable, reliable high-speed internet service to everyone.
The BPD came in full force to the Saipan Chamber of Commerce's general membership meeting on Nov. 1 to update the community on its programs, initiatives, and developments.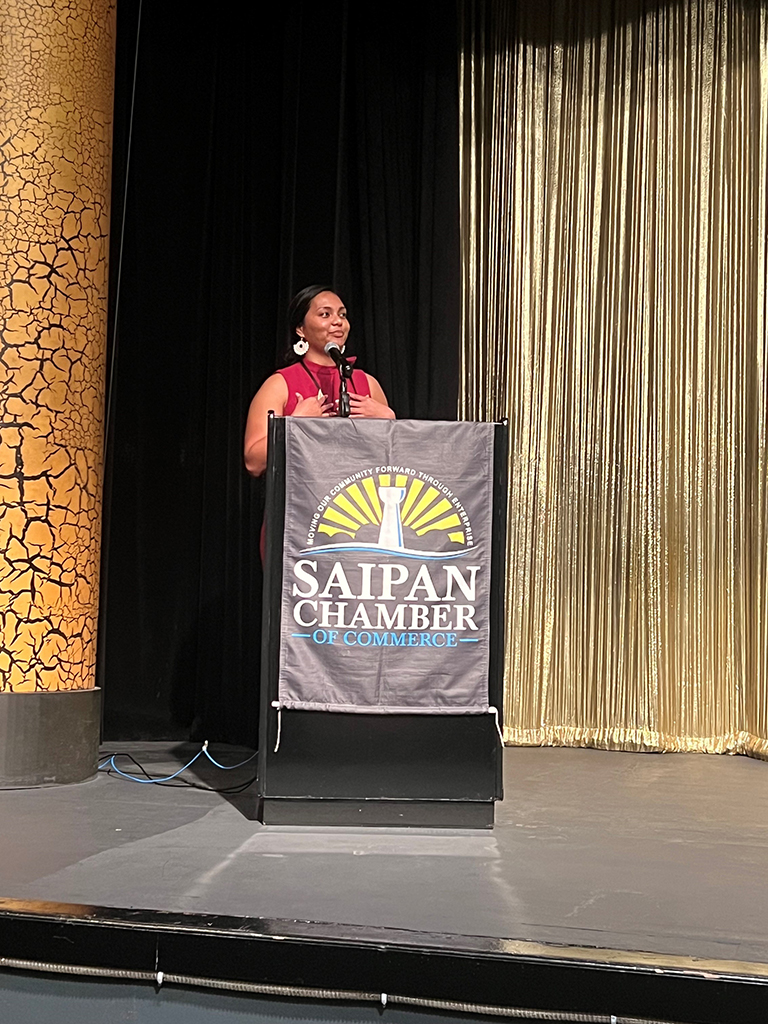 De Faustina J. Camacho, outreach specialist; said under the Digital Equity program, all individuals and communities will have the information technology capacity needed for full participation in society, democracy, and economy.
The BPD's goal is to ultimately create a digitally connected NMI where every resident has access to affordable, reliable, high-speed broadband services that contribute to sustainable socioeconomic growth, improved quality of life, responsible environmental stewardship, and increased social equity, it said.
To achieve this, the BPD has come up with two main programs — the Broadband, Equity, Access, and Deployment Program, or BEAD; and the Digital Equity Program, or DE.
Some of the potential projects under the BEAD initiative are the following: the Makerspace Creative Space, the Public School System IT Core Curriculum, the Digital Navigators Program, High School Career Pathways, Digital Street Numbering, and Connecting the Northern Islands.
The NMI received $1.4 million in planning grants in May 2022 according to a National Telecommunications and Information Administration release.
BPD later told the Journal the application process for both BEAD and DE are entirely dependent upon review and approval and the NMI's will be submitted following a public comment period.
"DE's 5-Year Action Plan will be finalized by May 2024. DE is also applying for the Capacity and Competitive Grant by June 2024."  Once the grant is submitted "it will depend upon NTIA review and approval," BPD said. BPD also said that BEAD's focus is for accessible internet which entails fiber optic connectivity to the home.
Under its envisioned Digital Device Distribution and Digital Labs, BPD can provide the necessary equipment and spaces, ensuring that everyone has accessibility to the internet and the necessary equipment needed.
"Another program we envision is the Digital Navigators and IT Career Paths. Through these programs, we can educate the public and give them opportunities that allow them to navigate and utilize the internet's resources to their full extent." 
Ultimately, BPD said high-speed and reliable internet will be a game-changer for farflung U.S. territories like the NMI. "Because we reside on remote islands in the Pacific, it's critical to ensure that everyone has access to a wide range of opportunities provided elsewhere. Our goal goes beyond just providing internet access. We want to empower every individual within the CNMI with the opportunity to access education, healthcare, employment, and more... we seek to give everyone the choice to connect with these opportunities."
Aside from being a great equalizer as far as the interconnected world of the internet is concerned, BPD also acknowledged that bridging the digital divide could allow the commonwealth to attract "digital nomads," who travel freely while working remotely using technology and the internet.
"Improved internet connectivity will offer reliable internet speeds, meaning a minimum of 100Mbps download speed, 20Mbps upload speed, and a latency of 100ms or less. This improved internet connectivity creates an opportunity for work integration. Many individuals outside of the Pacific wanting to visit are reluctant due to limited connectivity." However, BPD said with a high-speed internet infrastructure in place, the NMI can resolve this issue.
"Digital nomads will see the CNMI as an ideal destination where they can balance their work responsibilities with the beauty the CNMI has to offer. We can ensure digital nomads can stay connected while enjoying their stay in the CNMI."
If all goes well with the "Internet for All Initiative," the BPD could finally checkmark one of its goals which by 2030, "every resident will have meaningful access to robust, reliable and affordable high-speed Internet bolstered by a dedicated digital equity response that enables all of our residents to succeed in digital space."
mbj