An opinion editorial by Rear Adm. Benjamin Nicholson, Commander of Joint Region Marianas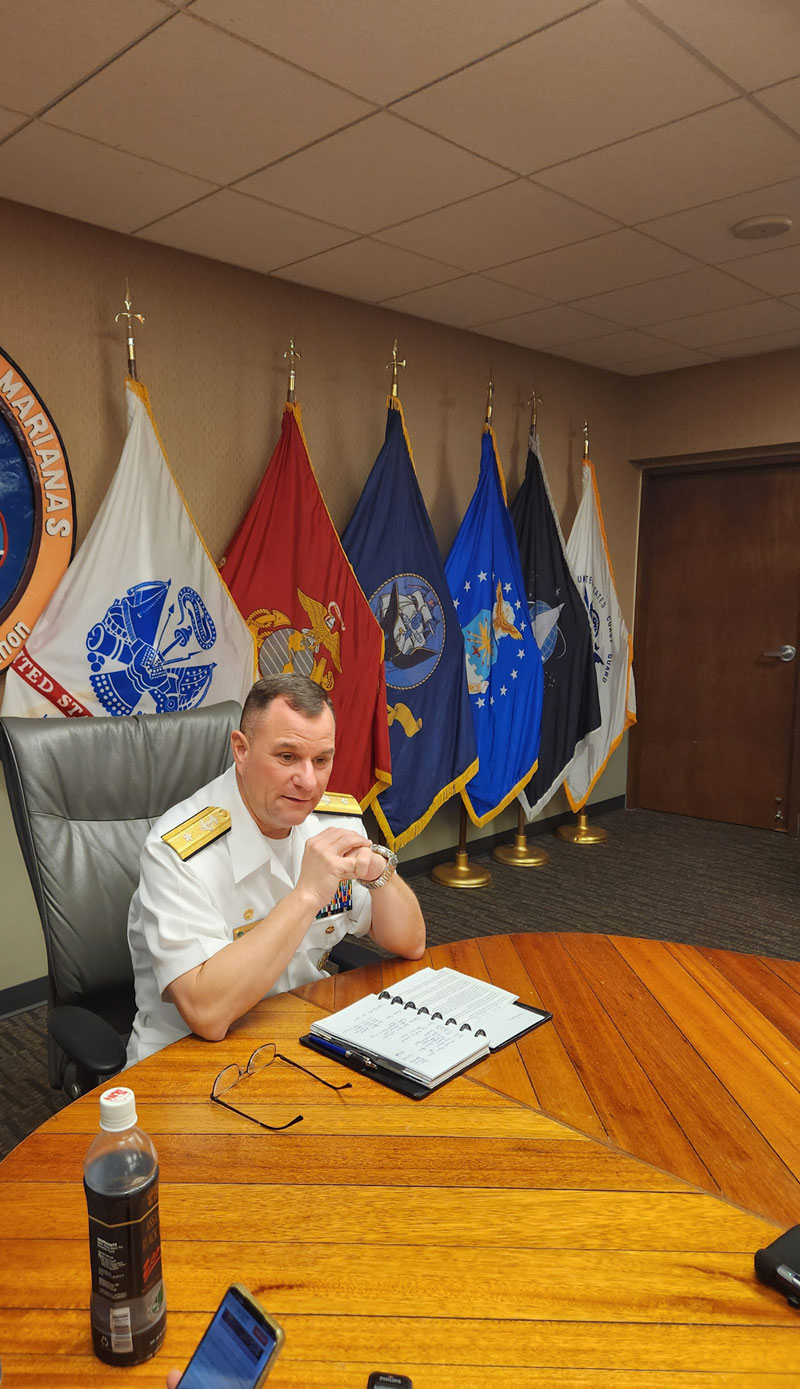 ASAN, Guam (May 1) – On Thursday April 27, we witnessed democracy in action when the Guam Legislature voted to override the Governor's veto of Bill 12-37. The introduction of this new legislation effectively stopped a potential lease of federal land for a new civilian hospital and medical complex. I firmly believe in democracy and have no issue with the outcome of the proceedings. However, there was quite a bit of incorrect information stated publically [sic], and I believe it is important to clarify the details.
Civilian Hospital. The proposed lease was intended for a civilian hospital which would replace the current Guam Memorial Hospital. It was not to be a military hospital. Today, members of the military and their family members are sent to Guam civilian medical facilities 4000 times each year, on average. Military healthcare insurance pays the facilities for these services. This same arrangement happens routinely across the country.
Shared Patient Care. Military doctors and nurses often work additional shifts in the Guam civilian hospitals. Multiple times each day, military ambulances respond to civilian patients in the community who have no affiliation with the military. It is common for civilian patients to be brought to the Naval Hospital for emergency treatment due to the severity of their wounds and proximity to the hospital. Regardless of the ambulance or the patient, transportation to a facility is based on the needed specialty and the criticality of the patient. Any new civilian hospital would be for the people of Guam and every patient who calls this region home.
Conditions of the Lease Agreement. Five of the lease conditions were to provide modern medical capabilities, these were:
A hyperbaric recompression chamber. A hyperbaric chamber is essential to treat decompression sickness, especially in an area where scuba diving is a big draw for tourism. The Navy will always maintain hyperbaric chambers in Guam for diving injuries. However, diving injuries are not the only use of this type of equipment. Hyperbaric treatment is now a common medical procedure for burns, brain injuries, crushing injuries and infections.
Inpatient hemodialysis capability. When dialysis is mentioned, most people think of treatments for diabetes, and those treatments certainly exist in Guam. However, a special type of dialysis, Continuous Renal Replacement Therapy (CRRT) is used during trauma situations to prevent kidney injury.
Interventional radiology facility capable of cardiac catheterization. This method is used by interventional radiologists to treat internal hemorrhaging conditions not amenable to surgical intervention, or without the need to perform surgery that requires a full incision into the patient's body. This treatment is beneficial for treatment for internal injuries.
Inpatient rehabilitation capability with services to include inpatient physical, occupational and speech therapy. There is a shortage of rehabilitation capability across all hospitals in Guam. The ability to provide long-term follow-up care in a hospital setting greatly increases the chances for a full recovery of patients who are recovering from trauma or significant life-threatening medical conditions.
Pediatric Intensive Care Unit. Pediatric intensive care is essential for the highest level of care for our most vulnerable population. Shortfalls in pediatric intensive care across Guam are evident. Staff from one facility travel to another due to the lack of equipment and patients are moved due to staff shortages.
As an island community, and the hub of the Marianas, Guam has additional needs based on the distance to alternate medical support. Three of the lease conditions were to provide capabilities with this distance requirement in mind:
Area capable of accommodating expeditionary medical support facilities. During the COVID-19 pandemic, a 150-bed Navy Expeditionary Medical Facility was set up in Dededo, but not adjacent to any existing medical facility. Tents were set up adjacent to the Guam Memorial Hospital, but limited in number due to the lack of dedicated space. This highlighted the need to have an area adjacent to a medical facility to allow synergy with an expeditionary support facility.
Mass casualty capability to receive approximately 10 critical patients per hour. Fortunately, it has been quite some time since a mass casualty event has happened in Guam. However, being properly prepared is essential, especially on an island where transporting large numbers of patients to other locations is not feasible. This highlighted the need for a facility configured to accept multiple critical patients in a short amount of time.
V-22 and H-53 capable helipad. Today the Naval Hospital can accommodate small helicopters with limited range and patient capability (Navy MH-60S Seahawk and Guam National Guard UH-72 Lakota). These aircraft rescue personnel and transport patients throughout the Marianas to the Naval Hospital. If the required specialty treatment does not exist at the Naval Hospital, further ambulance transportation is necessary. Larger aircraft with significantly longer ranges, faster speeds and more patient capacity (Marine CH-53 Stallion and MV-22 Osprey) will be operating from Guam in the future. If there was an earthquake in Saipan, a single CH-53 could transport 24 patients in one trip. If there were several injuries in Pagan, the MV-22 range and speed could transport 10 litter patients to Guam in less than half the time it takes to transport a single patient today. The need for a helipad to support these aircraft at a new hospital reduces patient transport time, which can make the difference between life and death.
Wherever a new hospital facility is built, I hope it will include the above listed commonplace medical capability sets, the described disaster contingency capabilities and the aero-medical evacuation accommodations for the people of Guam and the region.
Monetary Value of the Lease Agreement. To comply with federal law, the Department of the Navy must receive fair market value for a lease, either in cash or the accumulated value of in-kind consideration. The original lease was no cost in exchange for fencing the lease area and providing the capabilities listed above as in-kind considerations. The payment of approximately $10M was added to the final version of the lease in order to address the concerns of the Guam Attorney General regarding the in-kind considerations and future payments.
Need by the Numbers. In 1990 the population of Guam was just over 138,000 with approximately 830 hospital beds on the island, resulting in about 6 beds per 1000 people. The old Naval Hospital and old Guam Memorial Hospital both had more beds than these facilities have now. Today, with a population near 170,000 there are just over 330 beds on the island, putting Guam at about 1.9 beds per 1000 people.
This is far below regional and U.S. averages. For comparison, beds per 1000 people for Japan is 12.6, China 4.9, and the U.S. 2.9. Wherever a new hospital is built, consideration should be made for increasing the bed capacity.
Land Transfer. In 2011 the Under Secretary of the Navy committed to a "Net Negative" strategy for DoD-owned land on Guam, which reads: "The Department is committed to having a smaller DoD footprint on Guam after the military build-up than we currently hold. We will better utilize the lands we currently have and return underutilized land to the Government of Guam." Since this commitment, 609 acres of DoD land have been transferred to the Government of Guam. There are an additional 115 acres of terrestrial and 6,225 acres of submerged DoD land currently in the transfer process. The Navy is meeting this commitment.
Eagles Field. In January 2021, the Secretary of the Navy pledged to assist the Government of Guam in the planning and development of the plot of land, commonly referred to as "Eagles Field," for a civilian medical complex. The conditions of the lease, as outlined above, were beneficial for people throughout the region and provided military utility, resulting in good utilization of the land. However, since an agreement could not be reached, the land will be developed to support other defense mission requirements.