The 
Guam Society of CPAs
 presented a $25,000 donation to the University of Guam School of Business and Public Administration through the UOG Endowment Foundation. The funds will go toward the school's Guam Accountancy Endowment Fund to benefit the Senator Herminia Dierking and John Phillips Visiting Accounting Professor and Lecturer Program, which enhances the accounting program and the student experience by bringing professors of various accounting specialties temporarily to Guam to teach and lecture.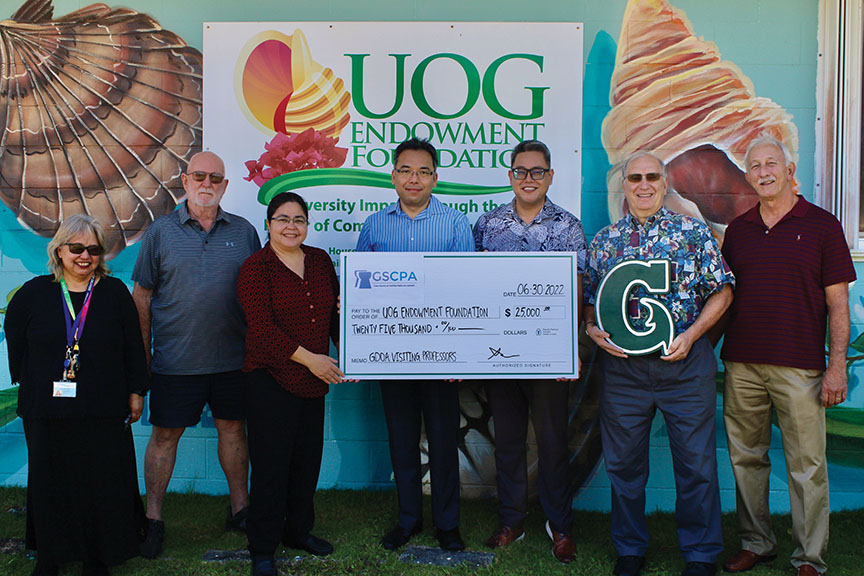 (From left) Taling M. Taitano, secretary; Stanley C. Wilson, board member, both with the society; Katrina T. Perez, executive director, UOG Endowment Foundation; Arata Ichikawa, auditor; Jason Katigbak, board member; Jerold W. Filush, executive director; David Sanford, president, all with the society. Photo courtesy of the University of Guam Endowment Foundation
---

Bank of Saipan is sponsoring a $20,000 hole-in-one prize at the 20th Annual Hotel Association of the Northern Mariana Islands Charity Classic Golf Tournament, to be held on Sept. 17 at LaoLao Bay Golf & Resort. The tournament's beneficiary is the Northern Marianas Technical Institute.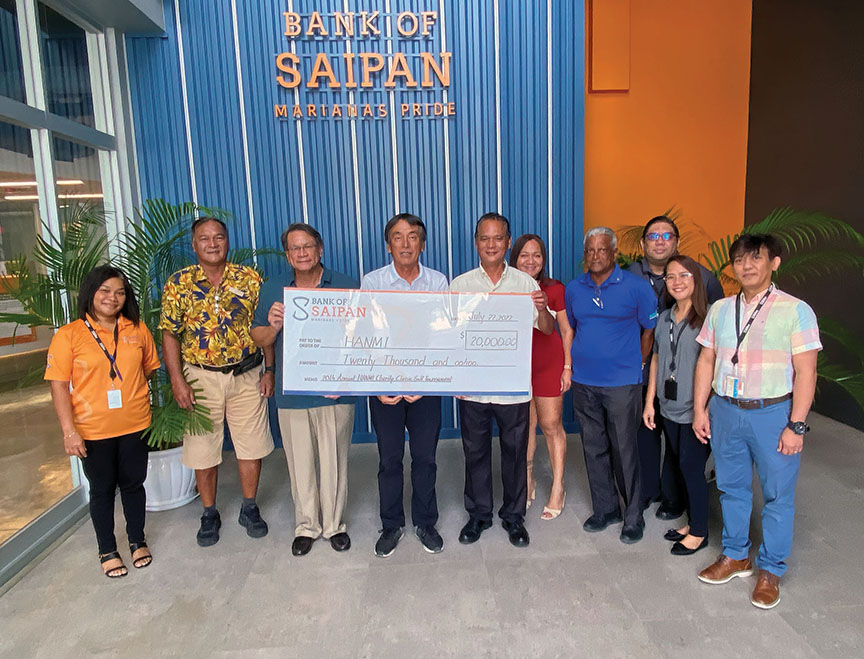 (From left) Karen Kalen, Max Concepcion, tournament committee member; John Z. Arroyo, president and CEO of Bank of Saipan; Juko Ishikawa, chairman of the tournament committee; Neil Metran, vice chairman of the tournament committee; Gina Delon Guerrero; Das Krisnan, Lee Tudel, Ritchell Sublemente, and Arnold Pascua, all tournament committee members. Photo courtesy of the Hotel Association of the Northern Mariana Islands
---

Docomo Pacific sponsored the 38th Saipan International Fishing Tournament through a donation of funding and shirts.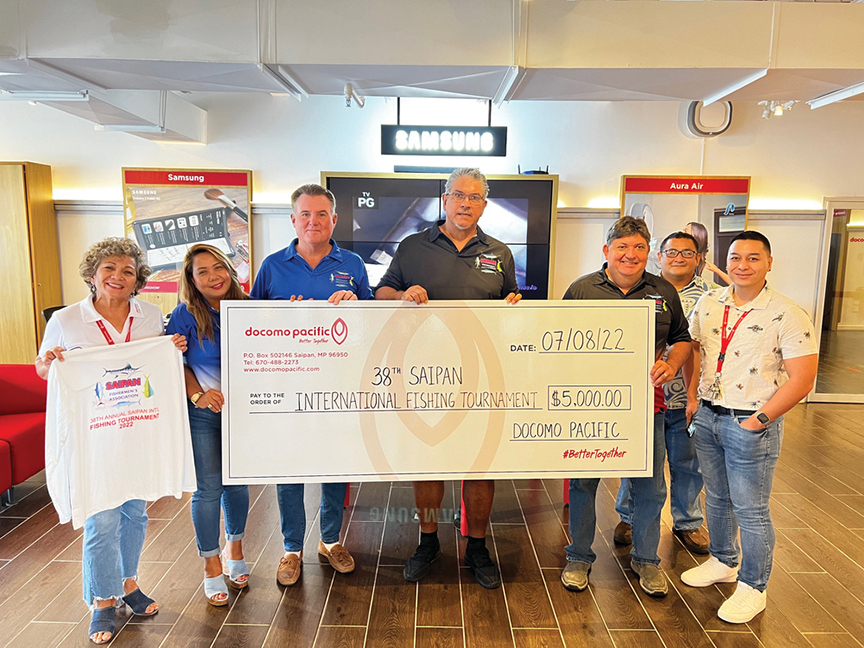 (From left) Pauline Johnson, general manager, Docomo Pacific; Mira Schular, secretary; Schott Schular, vice president, Curtis Dancoe, solicitation chairman, Anthony C. Scragg, president, Floyd Masga, social media coordinator, all with the SFA; and Brent Deleon Guerrero, brand manager, Docomo Pacific Photo courtesy of Docomo Pacific
---
South Pacific Petroleum Corp. presented a check for $2,500 to the Windward Wolverines Youth Soccer Club. The sponsorship money will be used to assist in funding the Wolverines Fall 2020 Season.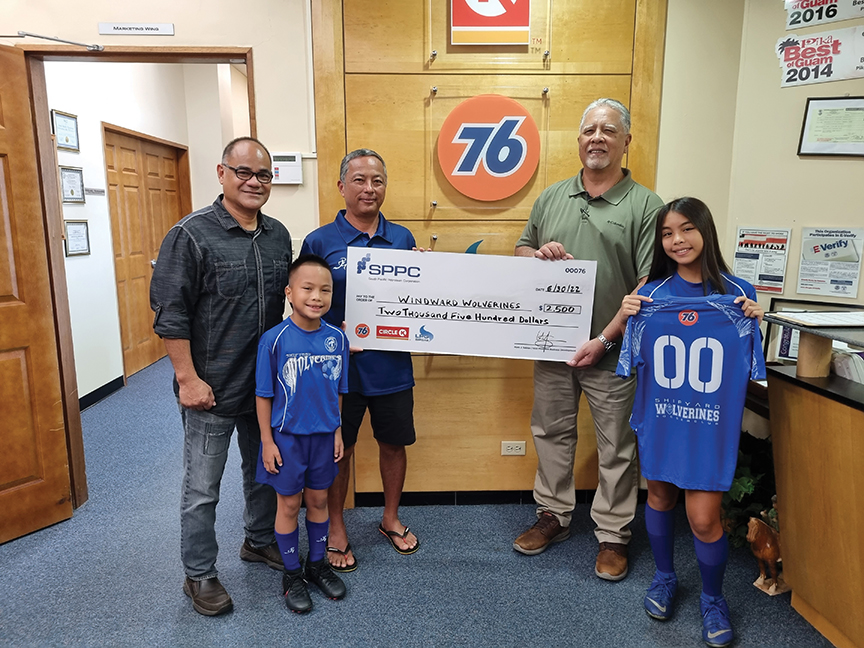 (From left) Joseph Roberto, president of the club; Nolan Jase Blas, team member; Peter Toves, technical director and head coach; Mark J. Sablan, vice president of business development at SPPC and Miomi Rose Blas, team member. Photo courtesy of South Pacific Petroleum Corp.
---
The Public Company Accounting Oversight Board Scholars Program selected Mariah Castro, senior accounting major at the University of Guam; to receive a $10,000 scholarship for the coming school year. The program is a nonprofit corporation that oversees audits of public companies, awards academic scholarships to undergraduate and graduate accounting students who are attending accredited U.S. universities and are likely to become accountants and auditors. Castro plans to pursue a master's through UOG's Master of Accountancy program and complete the Certified Public Accountant exam.  Castro is the third student from UOG's School of Business and Public Administration to receive the scholarship
South Pacific Petroleum Corp. presented a cash donation of $4,693.48 to Guahan Paws for Pets. The funds were raised through SPPC's collection of jars placed on each of the counters at the 76/Circle K stores.
Atkins Kroll presented Guam HAWGS Motorcycle Club with children's school supplies, toiletries, home goods, and $1,000 to benefit the 28th Annual Christmas in July Ride. The donation is part of AK's Community Matters Program.
The Islandwide Beautification Task Force — in collaboration with the Governor's Summer Youth Employment Program and United Airlines — collected a total of 5,980 pounds of trash during the #GUAM 78th Liberation Islandwide Beautification Cleanup. The event also was supported by Guahan Waste Control Inc. and the Guam Department of Public Works.
The Rotary Club of Palau has handed over to Koror Elementary School the eighth playground the club has built in public elementary schools in Palau. mbj