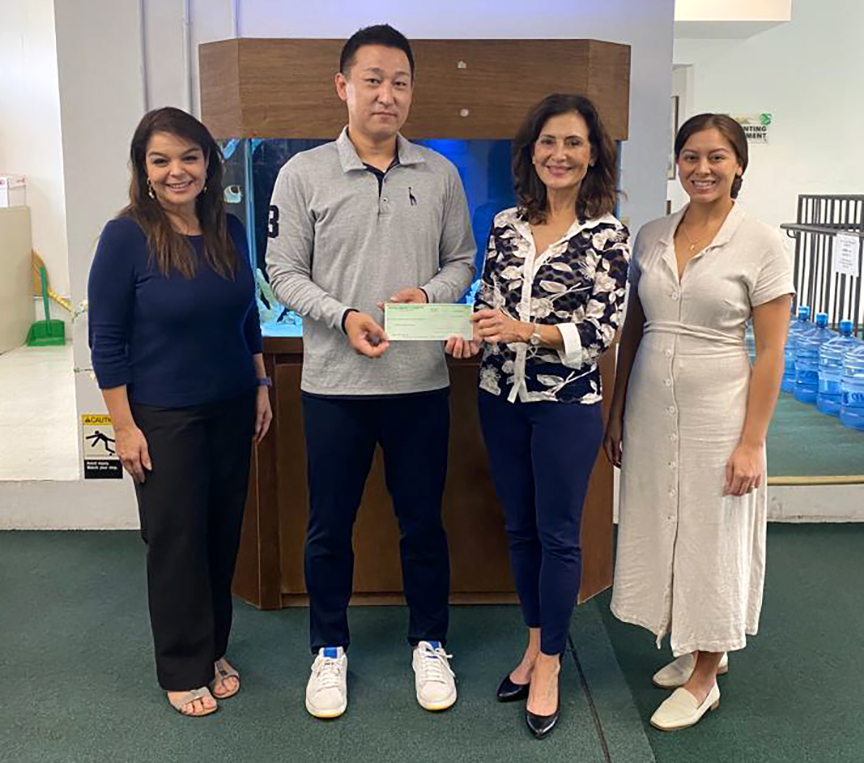 (From left) Louise Borja, chief people officer, Pay-Less Supermarkets; Edward Lee, development manager, American Cancer Society; Kathy R. Calvo, CEO, Pay-Less Supermarkets; and Rosae Calvo Shandor, vice president of Pay-Less Markets Community Foundation. Photo courtesy of Pay-Less Markets Community Foundation
Pay-Less employees raised $2,000 for the American Cancer Society's Relay For Life through their Annual Rummage Sale.
Pay-Less also raised $1,825 for the Guam Memorial Hospital Volunteers Association, through donation boxes throughout the month of June.
The Pay-Less Markets Community Foundation also announced the opening of its mini-grant program in September and hosted a mini-grant writing workshop for non-profit organizations on the application process.
---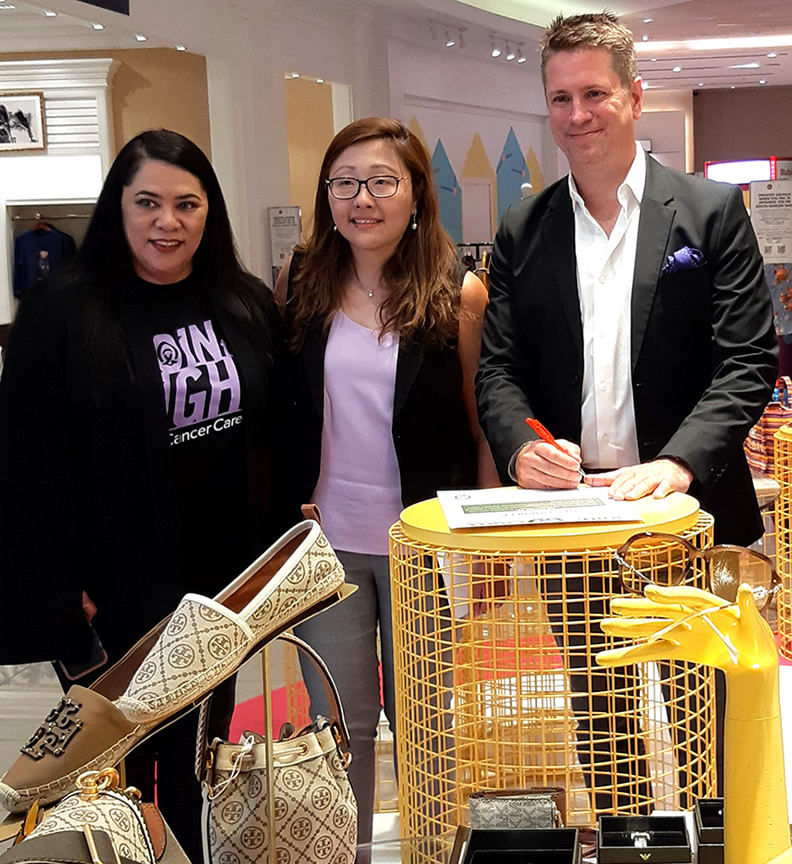 At the Guam launch on Sept. 8 were (from left) Gina Arterio, general manager of T Galleria; Rachel Tan, vice president for operations for DFS Mid-Pacific; and Richard Gustafson, managing director for DFS for the Mid-Pacific, Japan and Korea. Photo by Maureen N. Maratita
DFS launched its DFS Cares campaign in September to support Guam Cancer Care and the Commonwealth Cancer Association.
---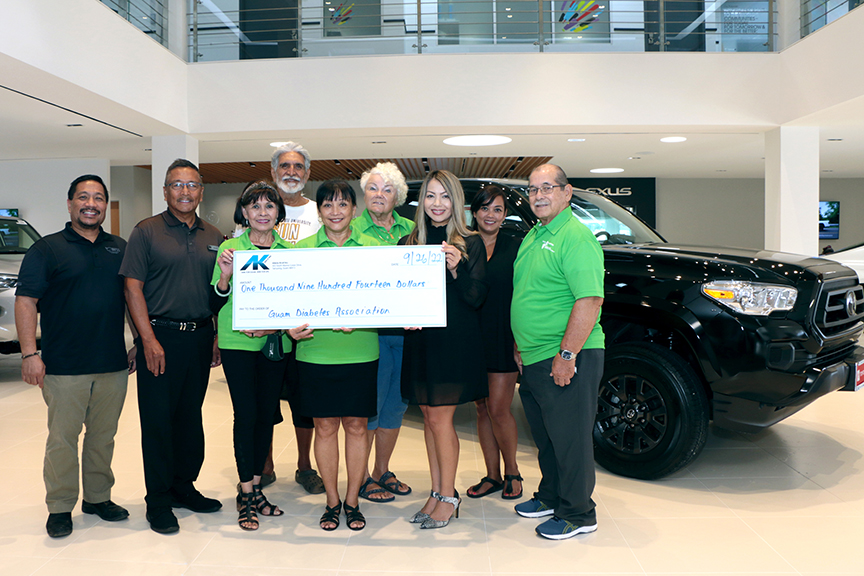 (From left, back row) Jack Caceres, Ginny Caceres, and Francine Lamberton, all members of the board of the Guam Diabetes Association; and (From left, front) Patrick Luces, board member of the Guam Diabetes Assocation; Ernie Galito, director of business development for Atkins Kroll Inc.; Winnie Butler, executive director; Clara Peterson, vice president, both from the Guam Diabetes Association; Trina Cruz, director of marketing and communications for Atkins Kroll; and Scott Duenas, president of the Guam Diabetes Association. Photo courtesy of Atkins Kroll Inc.
Atkins Kroll donated $1,914 to the Guam Diabetes Association through its Community Matters program to assist with the 23rd Annual Guam Diabetes Conference in November.
---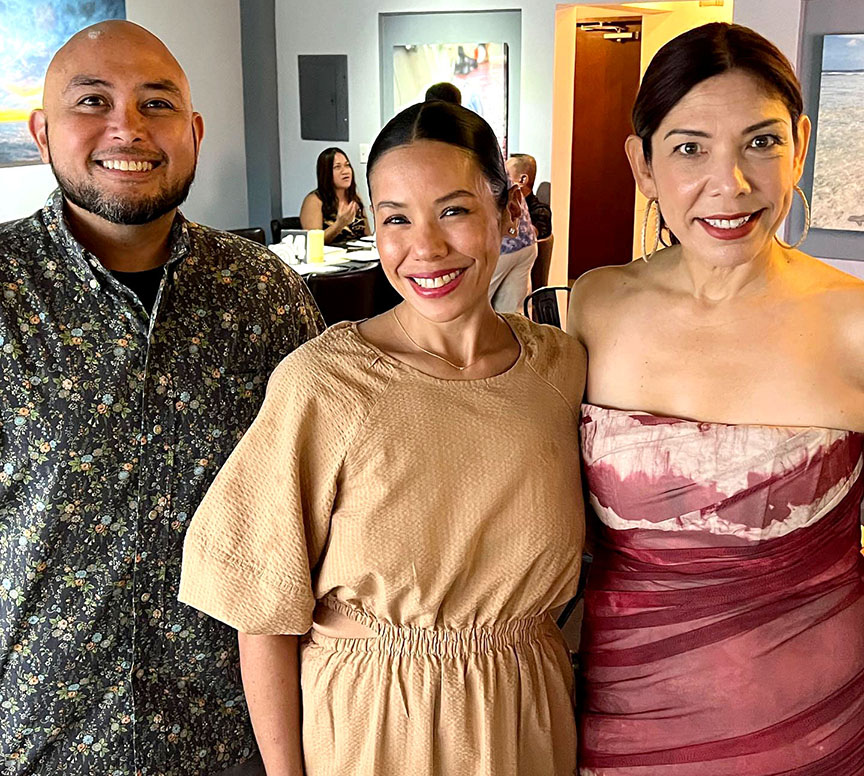 (From left) John F. Reyes, vice president for digital strategy at Bank of Guam; Lesley-Anne Leon Guerrero, chief experience officer, Bank of Guam; and Kristine R. Lujan, vice president of marketing and public relations, Triple J Enterprises Inc. Photo courtesy of Make-A-Wish Guam & CNMI
Make-A-Wish Guam & CNMI hosted a Whiskey for Wishes fundraiser at the Naked Fish Bar & Grill Saipan on Sept. 17.
---
Through its Watts-Up Environmental Committee and Employee Engagement Committee, staff of Dusit Guam properties planted more than 70 hibiscus seedlings at the Ricardo J. Bordallo's Governor's Complex in Adelup.
The employees Partnered with the Guam Department of Agriculture's Forestry & Soil Resources Division for the tree-planting.
Three biology students at the University of Guam were awarded the 2022 More Like Jimmy Scholarship through the UOG Endowment Foundation. The awards, totaling $10,000, went to Sophomore Victor Sambilay, Junior Anela Duenas, and Junior Ella Fedenko. 
The More Like Jimmy Scholarship was created in memory of the late adventurer Jimmy Hall.
Sentry Hospitality Corp. raised $12, 233 from its iCare 4 fundraiser for the UOG Endowment Foundation held at Capitol Kitchen on July 30.
Bank of Guam is committing $250,000 during five years to support the Center for Entrepreneurship & Innovation, which opened in 2019 at the Jesus & Eugenia Leon Guerrero School of Business and Public Administration building at the University of Guam. Since then, the center has hosted an interactive learning laboratory for new business idea generation and serves as a catalyst for entrepreneurial activity.
The Triple J Auto Group donated a 2022 Kia Seltos for the Guam Memorial Hospital Volunteers Association Thanksgiving Raffle.
The American Red Cross Northern Mariana Islands Chapter was able to help family members displaced from their home due to a structure fire. The chapter was able to provide clients with immediate assistance for food, clothing, and shelter.
Make-A-Wish Guam & CNMI granted the wish of 6-year-old Avan Atalig, who wished for electronics. His wish granting at McDonald's Restaurant in Tamuning coincided with his birthday, so to enhance his wish, he and his family stayed the weekend at Pacific Islands Club Guam.
Make-A-Wish Guam & CNMI raised $162,000 ($128,000 net) from its Black Tie & Tennies gala on Aug. 13 at the Hyatt Regency Guam.
More than 70 volunteers from the University of Guam and Bank of Hawaii teamed up to combat soil erosion and protect Guam's watersheds. Led by the Guam Restoration of Watersheds initiative of the UOG Sea Grant program and in partnership with Guam Green Growth, the volunteers planted 200 trees at the Ugum restoration site in Inalåhan. mbj