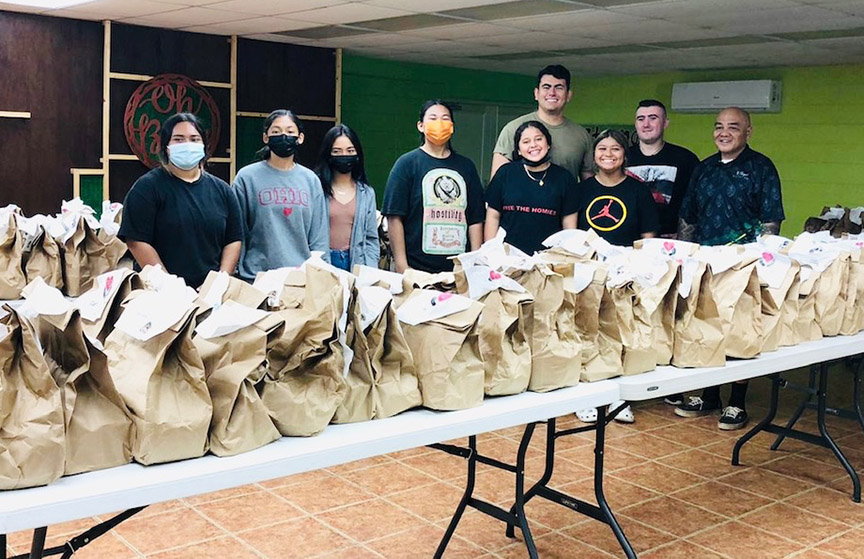 Photo courtesy of Naval Base Guam Chapel
Personnel from the U.S. Naval Base Guam Chapel also delivered about 400 pounds of food items to the Santa Rita-Sumai Mayor's Office.
The food items were collected through the 2022 Feds Feed Families Campaign, with most of the food donated from food bags sold at Orote Commissary.
---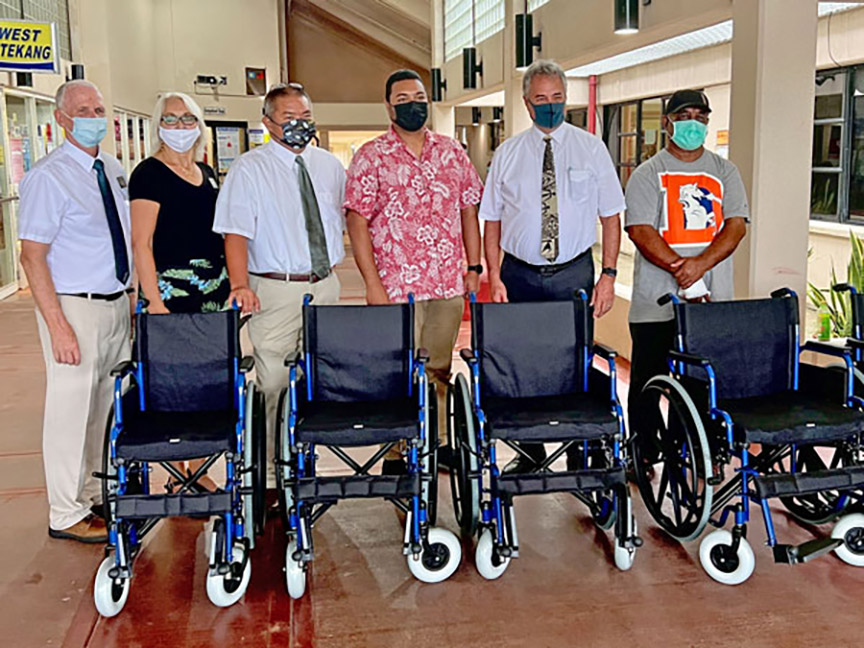 (From left) Elder Joseph Green and Sister Constance Green, both of the Church of Jesus Christ of Latter-Day Saints humanitarian and communications missionaries; Koror branch president EJ Ozu, president of the Koror branch of the LDS; Palau Minister of Health Gaafar Uherbelau; LDS Welfare & Self-Reliance Manager William H.K. Davis, welfair and self-reliance manager of the LDS; and Ernest Simer representing his wife Wilma Simer, who is the first LDS wheelchair recipient in Palau. Photo courtesy of Church of Jesus Christ of Latter-Day Saints
The Church of Jesus Christ of Latter-Day Saints donated 124 wheelchairs to Palau at the Belau National Hospital. In consideration of environmental conditions in Palau, the wheelchairs have composite spokes that won't rust, tubeless tires, and a seat cushion for comfort. The wheelchairs will support inpatients and outpatients in the hospital, clinics in the area, and will be donated to patients in need in the community.
---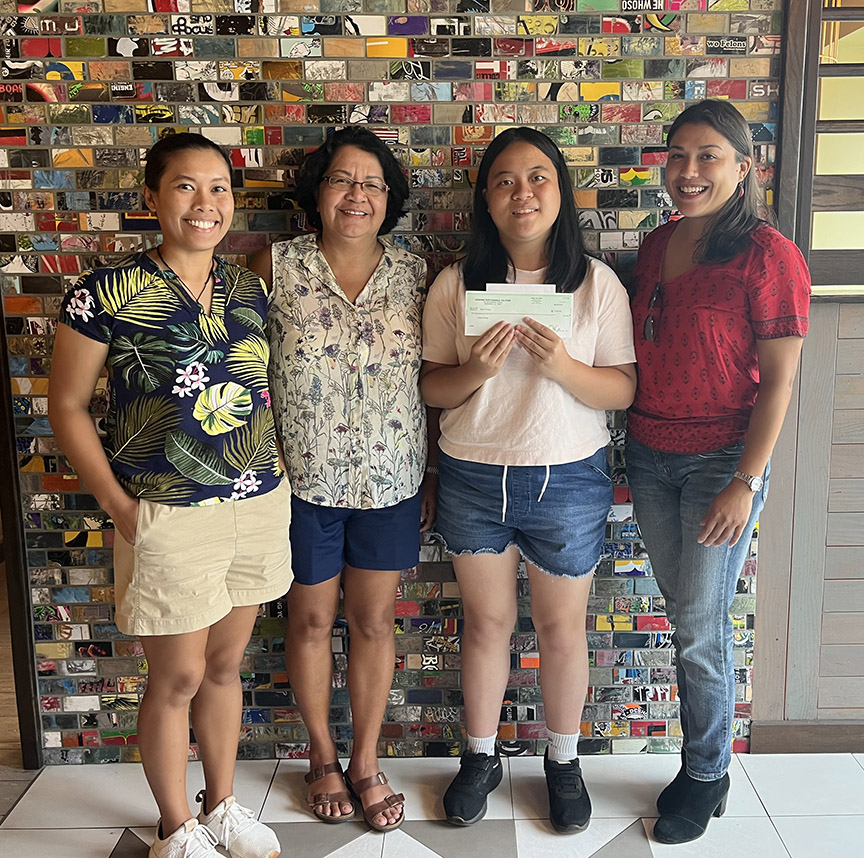 (From left) Kristin Oberiano, board Member; Marlyn Oberiano, co-founder and vice president, both from Guahan Sustainable Culture; Chao (Grace) Shane Chang, scholarship recipient; and Michelle Crisostomo, owner of GUHydro and Tiny Greens Guam, co-founder and president of Guahan Sustainable Culture. Photo courtesy of Guahan Sustainable Culture
Guåhan Sustainable Culture awarded its second year Sustainable Futures Scholarship of $1,000 to St. John's School senior Chao (Grace) Shane Chang.
GSC's scholarship program recognizes students who have helped the organization work towards its mission for a more food sovereign Guåhan and are committed to working for a more just, equitable, and environmentally sustainable world.
 
---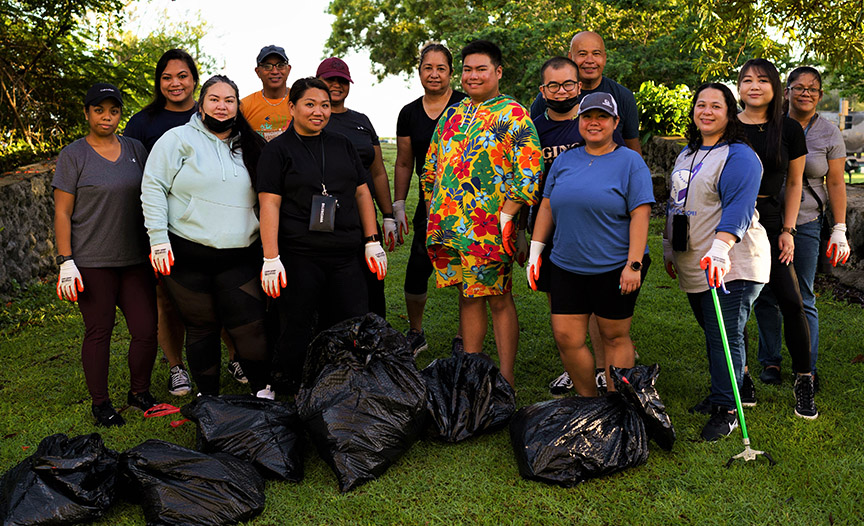 (From left) Joyce Padua, manager, Tamuning Service Center; Patricia Tenorio, consumer credit officer; Alyssa Diaz, mortgage loan originator; Gerard A. Cruz, president and CEO; Chona Atalig, assistant vice president/ compliance manager; Donna Aguon, senior mortgage underwriter; Terese Salumbides, vice president/chief credit risk officer; Neo Pangilinan, officer trainee; Nathaniel Dela Cruz, officer trainee; Peter Palomo, senior vice president/technology manager; Georgette Ulloa, credit counselor; Ashley Arceo, assistant vice president/credit counseling manager; Marylou Aguon, loan servicing technician II; and Evangeline Muña, loan servicing manager. Photo courtesy of Community First Guam Federal Credit Union
Community First Guam Federal Credit Union is undertaking 60 Acts of Community as a community initiative in celebration of its 60th Anniversary.
Community First held a clean-up in Hagåtña, where Community First is constructing its new Hagåtña headquarters. Teams from each of the Member Service Centers in Hagåtña, Tamuning, Mangilao, and Dededo joined the Hagåtña cleanup.
The credit union is currently holding a supply drive for Harvest House as part of its initiative.
---

The Hotel Association of the Northern Mariana Islands has announced the following support for the 20th Annual HANMI Charity Classic Golf Tournament in September:
Atkins Kroll Saipan has donated a 2022 Toyota Tacoma TRD Sport for a hole-in-one prize; Marianas Health Services donated $1,000 as a SuperiorsSponsor; TakeCare Insurance donated $750 as a Superior sponsor. Chong's Corp. has donated $500 as a VIP sponsor. DPA Cart Mart has donated a $700 golf bag for the event raffle.
Mobil Oil Guam Inc. donated $3,000 to support Guam Crime Stoppers.
Docomo Pacific donated $2,500 to the American Cancer Society in support of the 2022 Relay for Life of Guam.
Dusit Guam's Employee Engagement Committee organized a donation drive to benefit foster children at Harvest House and Alee Shelter of Guam.
Employees of the Dusit Thani Guam Resort, the Dusit Beach Resort Guam and The Plaza donated items of more $600, which included backpacks, school supplies, water bottles and clothing.
The Guam Chamber of Commerce's Guam Young Professionals held a roadside clean-up in Hagåtña.
Rocky Mountain Precast LLC donated the kneeling widow three-ton pedestal for the Gold Star Family Memorial in Guam.
GTA supported the Gold Star Family Memorial project in Guam through in-kind and monetary donations.
Black Construction Corp. and Morrico Equipment were among other companies that assisted with the Gold Star Family Memorial.
The Gold Star Families Memorial Monument in Guam pays tribute to the families of fallen service personnel from Guam, the Northern Mariana Islands, Palau, the Marshall Islands, and the Federated States of
Micronesia.
Chef Kotwal Singh, Café Kebab & Curry and Sizzle Grill donated 60 meals to Kamalen Karidat.
U.S. Navy sailors and Guam residents volunteered to clean the Korean Air Flight 801 crash monument in preparation for the 25th anniversary memorial service at Nimitz Hill.
Atkins Kroll Inc. organized a backpack drive for children at Harvest House, with all AK departments collecting school supplies and clothing during July and August.
Triple J Enterprises Inc., K&K Island Pride Supermarket, Do it Best, Majuro Hardware and Pinho companies donated cases of apples and oranges for patients and staff at COVID-19 care sites in Majuro.
The Republic of China Taiwan donated 5,500 Protective Gowns, 7,000 Masks, 2,500 soap bars, and hygiene products in support of COVID-19 efforts in Majuro from Taiwan's embassy and community partners Formosa Supermarket, Cost Price Supermarket, Home Garden Corp., Misco Market, and True Value. mbj