A $3.6 million effort is being made to stop the spread of the brown treesnake. The species, which was accidentally introduced to Guam, has wreaked havoc on the local bird population and has caused multiple Guam Power Authority outages over the decades.  
The U.S. Department of Interior announced the funds will be used to help control the snake population in Guam and to keep it from spreading to neighboring islands, such as Saipan, Palau and others in the Micronesian region, as well as Hawai'i.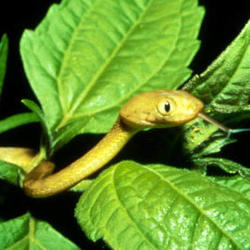 The U.S. Department of Agriculture's National Wildlife Research Center estimates that the accidental introduction of brown treesnake to Hawai'i could result in annual economic damage between $593 million and $2.14 billion, according to the DOI press release.
"The partnering efforts to control the Brown Treesnake have been successful in mitigating its impact on Guam and preventing its spread to the Northern Mariana Islands and Hawai'i," said Assistant Secretary for Insular and International Affairs Carmen G. Cantor. "The recent discoveries of the Brown Treesnake on board a plane and cargo ship only serve as an important reminder that we must continue to be vigilant in ongoing efforts to control, mitigate and eradicate the Brown Treesnake where possible."
DOI works closely with federal, state, and territorial partners to mitigate the brown treesnake threat on Guam. Thousands of Brown Treesnake are caught and removed every year from the civilian air and seaport on Guam which is the main U.S. transportation hub in the Western Pacific, thus preventing the snake's spread.
It's believed the snake made its way to Guam as a stowaway on a ship sometime after World War II. Without natural predators on-island the snake population quickly increased and has also caused "the drastic decline of native bird populations, causing cascading ecological consequences that threaten forest resiliency and other natural systems on the island," according to a press release.
Every year, the brown treesnake causes ground faults and short circuits that result in power outages estimated at $4.5 million in annual losses to Guam's economy, while toxins from snake bites also present health and safety concerns for infants and young children, the press release added.
OIA is distributing the fiscal year 2023 funding to the following partners to support efforts to fight the brown treesnake:
$ 1,400,184 U.S. Department of Agriculture - APHIS Wildlife Services for the Guam BTS Interdiction Program.

$ 811,160 USGS Pacific Island Ecosystems Research Center for rapid-response activities and related BTS research.

$ 450,000 CNMI Department of Lands and Natural Resources for the CNMI BTS Interdiction Program.

$ 425,416 U.S. Fish and Wildlife Service's Wildlife Pacific Islands Fish and Wildlife Office to provide regional and national program coordination.

$ 400,000 Hawai'i Department of Agriculture for the Hawai'i Detector Dog and BTS Interdiction Program.

$ 69,915 Guam Power Authority for the BTS Impact Research and Discovery Project.

$ 50,876 Guam Department of Agriculture, Aquatic and Wildlife Resources for the Kontra I Kulepbla, Challenge the Snake Project!

$ 41,324 USDA - APHIS National Wildlife Research Center on research for additional non-canine detectors.

$ 3,648,875 Total Fiscal Year 2023 Funding for Brown Treesnake Control mbj