BY ISAIAH JOHN AGUON
Journal Staff
 
A variety of food and beverage offerings are ready for business in Guam and Saipan.
ASAP Bakery opened its doors on March 24 on Harmon Loop Road in Dededo, next to Shirley's Coffee Shop. 
ASAP stands for As Simple As Possible, which "is our concept, I would like to share," said Joyce Ng, owner.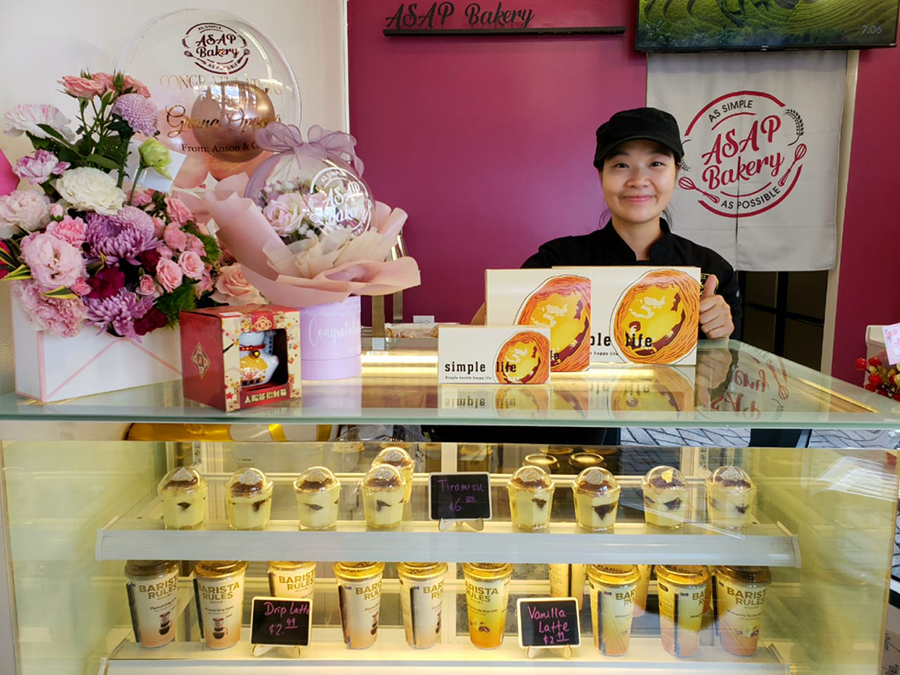 "The idea came about because I make pop tarts, which are originally from where I'm from," said Ng, who hails from Hong Kong. Not to be confused with the Kellogg's brand of Pop Tarts, these are egg tarts that are closer to pecan tarts, sans the pecans and with added eggs. 
"We eat pop tarts daily. So, when I moved to Guam four years ago, I tried to make it by myself to share with my friends and my friends also shared with their friends and they liked it. I wanted to make more and more, so I thought to myself maybe one day I can have my own bakery."
Ng had moved to Guam in 2019, a year before COVID-19 struck. 
"Then everything closed, so since I was stuck at home … I just made all the food by myself, because it was hard to find things in the stores because of shipments," she said. 
ASAP Bakery's menu consists of bread, coffee, and tiramisu, among other pastries, which Ng said, "Customers all say is very good." 
The bakery also serves tarts that are toasted on to give the exterior a crisp crust, with a creamy egg filling inside. 
The journey to opening her 680-square foot bakery wasn't easy, Ng told the Journal. The process took about four months, starting in November 2022. 
"The trouble I got was learning Guam's government laws … it took a long time to study, literally like one and a half months of reading," she said. 
Shipping equipment from the U.S. mainland was another challenge. 
"It was difficult to get equipment … I need to have the equipment, which arrived [after] more than two months, and then I did renovation," she said.
Obtaining a business license from the Guam Department of Revenue and Taxation, and finding employees were also problems. 
"I got my business license after one month and a half," Ang said. "It was hard to hire people because I posted that we are hiring and actually, people didn't want to open early like around 6 a.m. so it was not easy as well."
Faced with a labor shortage, the bakery hours are 9 a.m. to 2 p.m. weekdays. She is looking for cashiers who are willing to open up shop by 7 a.m. daily. 
For more information, contact ASAP Bakery on Instagram @guam.asap, Facebook at ASAP Bakery Guam. Customers can also call (671) 989-2727.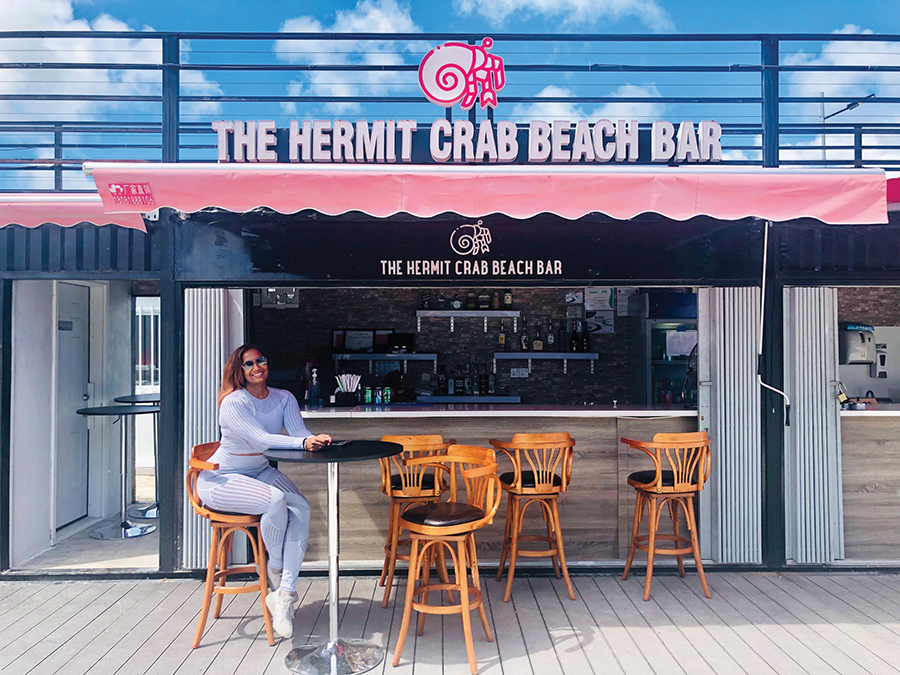 In Anigua, a business was forced to shift its operations from a bar and grill to an event venue after demands weren't being met.
Lime LLC, which does business as The Hermit Crab Beach Bar, formerly The Hermit Crab Beach Bar & Grill, first launched in July 2022, serving food, cocktails and drinks daily. 
"Today we are no longer operating as a day-to-day beach bar and instead are operating as a venue to host events like birthday parties, graduation parties, gender reveals, weddings, public agency and private company events, fundraisers, concerts, and more," said Rhonda T.P. Hill, owner of The Hermit Crab Beach Bar. "We are looking to do a name change so that we don't confuse customers about what we do at our location, as some still think we operate every day, and we do not."
The decision to switch followed when business got harder, she said. "We were not getting enough business to maintain and support the day-to-day operations."
Despite the challenges, Hill saw the potential of the one acre of beachfront land the beach bar occupies, which has the capacity to hold 2,700 people outside and 350 in the covered areas. "Our place is lovely and not for lack of trying, but we had to look into changing the dynamic if we were to continue business," she said.
Since the reformat, business has been picking up, Hill said. 
"We are getting more and more inquiries of people wanting to host their event at our location," she said. "It has been doing a lot better and the business is certainly growing."
The Hermit Crab Beach Bar's event package includes use of gazebos, enclosed rooms, and bar usage. "Our mission is to be the number one, go-to outdoor venues for small to medium events, by meeting and exceeding the expectations of our clients through supporting creative ideas and the delivery of excellent service," she said. "We are really affordable, flexible, we work intimately with customers, our staff are very helpful, and our venue doesn't disappoint."
To book an event or for more information, email [email protected], call 671-477-1111, check its social media pages @hermitcrabbeachbar on Facebook and Instagram. 
Those looking for a little light refreshment with their grocery shopping can now find it. 
Patrons of the Micronesia Mall can get a cold one, brewed locally by TGBTH 2 LLC, which does business as The Guam Brewery Taphouse II. The 299 square foot bar held its grand opening on March 12 at the Pay-Less supermarket there.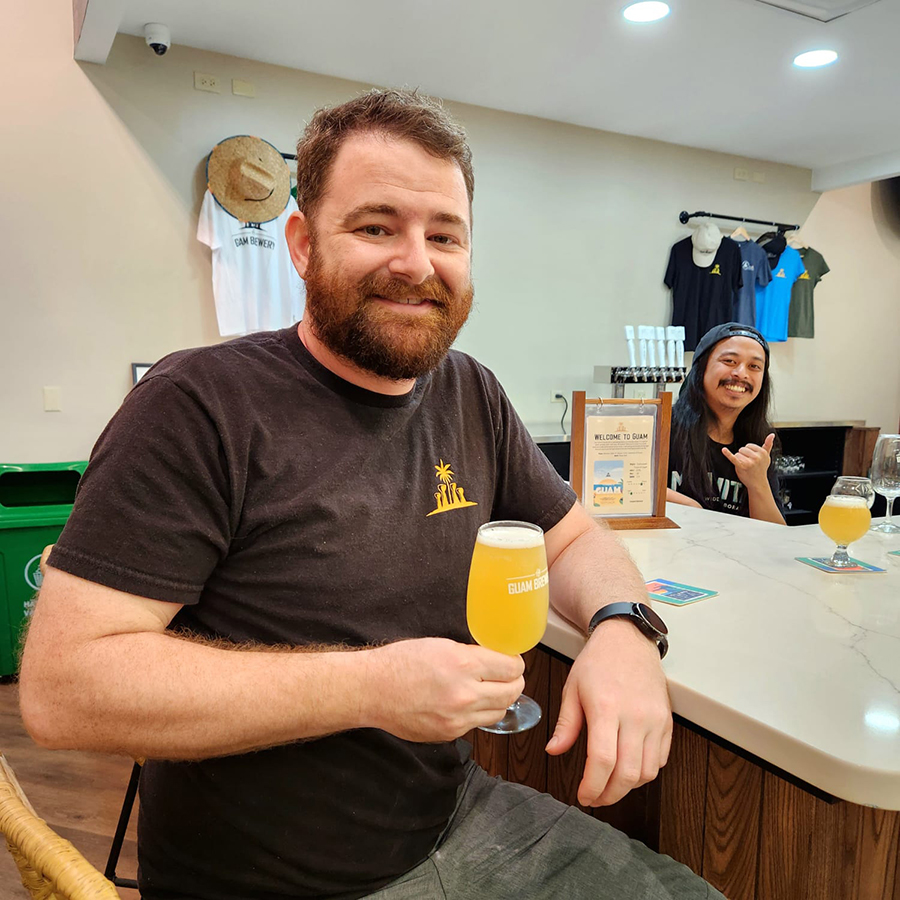 The Guam Brewery has been brewing beer on the island since 2017, offering 12 taps, and many seltzers at its Tumon location, according to Journal files. 
It's newest bar is smaller and only offers six taps. 
"It's also to highlight what you can get in the Beer Cave," Andrew Brunson, head brewer of The Guam Brewery; said. "So that's why we've got the Guam goal, the Island IPA and then the seasonals that are available there. So, it's … nice, you can sit down and grab a beer."
Business has been good, he told the Journal. "This was never designed to be a crazy high-volume spot but we're paying the bills and we're enjoying ourselves while we're doing it."
Investment into a second location was "five figures," according to Brunson, who has been brewing for the last 12 years. 
The Guam Brewery has seven employees. A house soda and food "is in the works," he said.
The Guam Brewery Taphouse II is open from 4 to 9 p.m. daily.
"Come down here and have a beer sometime," Brunson said.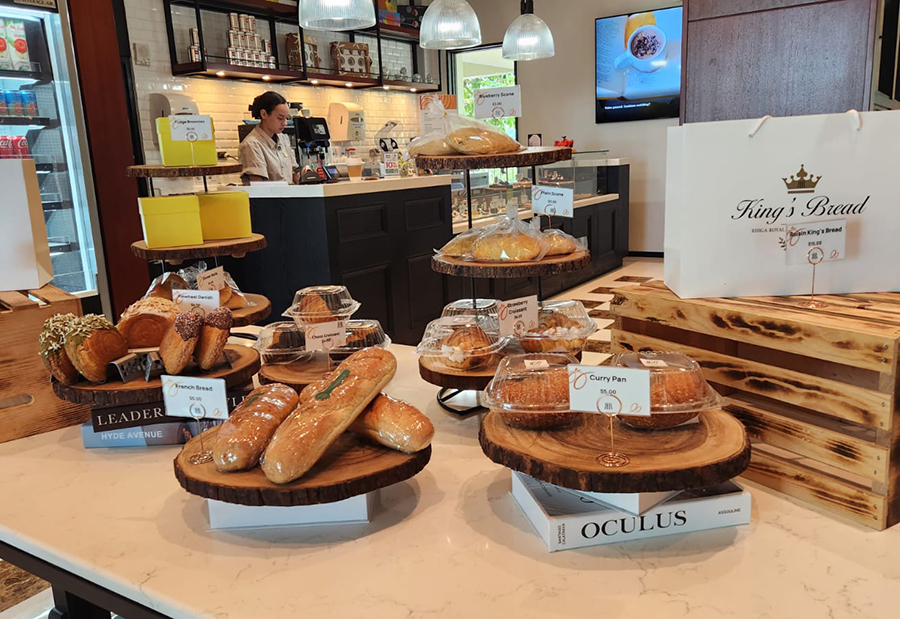 A promised addition opened March 17 at the RHIGA Royal Laguna Guam Resort – the Panaderia, offering freshly baked breads, pastries and coffee. Panaderia has seating, or you can take a selection of baked goods to-go, to include the popular King's Bread. The poolside Cliff Bar has also opened.
Also, Godfather's Bar & Grill in Saipan recently expanded its menu to lunch, offering more options to residents and visitors.
"We have dine-in and take out for lunch," said Scott Dottino, owner of Godfather's Bar & Grill, who's responsible for managing daily operations at the Palm Street bar in Garapan. "We offer different kinds of sandwiches. We make our own French bread for sandwiches, and it comes with free Marianas Coffee and Iced Tea. We try our best to make our food always fresh, like our pizza dough and breads."
Godfather's lunch menu includes pizza, French dip sandwich, and footlong hotdogs, and also offers eight draft beers.
Godfather's Bar & Grill has been open on Saipan since 2005. Its hours of operations for lunch are from 11 a.m. to 2 p.m. weekdays. mbj