BY MARK RABAGO
Saipan Correspondent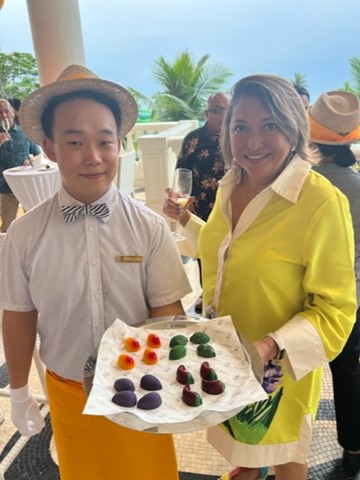 SAN ROQUE, Saipan — A couple of months after it started selling Chico de Marianas at selected outlets, the Kensington Hotel Saipan hosted a launch party for the NMI's first homegrown chocolate souvenir July 28 at OHAS Cafe. 
More than 100 guests attended the cocktail event that featured entertainment from Larry Lee and his son Kui, finger foods including all four flavors of Chico de Marianas, and a raffle drawing where the grand prize winner took home a one-night stay at the San Roque hotel, flagship of the E-Land Group's properties in the Northern Mariana Islands. 
Brian Shin, CEO of E-Land; said the main motivation for Chico De Marianas, which means "Kiss of Marianas in Chamorro," is for the NMI to finally have its own chocolate souvenir conceptualized, made, and its ingredients sourced from the islands. 
"The CNMI is a multi-island destination, and I was always wondering — in fact, a lot of our team members always wondered — what is the special souvenir that our tours can take away when they're visiting the CNMI that represents us? There are a lot of great products out there that you can find from a lot of retail stores like I Love Saipan, DFS Saipan, and ARC. However, there's nothing really representative that's made in the CNMI, so what we did is we came up with a product that uses ingredients from the Marianas," he said.
Shin said it took the Kensington Hotel nine months to come up with the name, three months to procure the molding from Turkey, and specially order the premium chocolate ingredients from Belgium. 
Gloria C. Cavanagh, general manager of the Pacific Islands Club Saipan; said the Chico de Marianas packaging in itself was a passion project as it took six months, six different boxes, and six different paper sheets before they agreed on a final design.
"Basically, what this product represents is very honest, but it also represents how a human actually looks at their products and gives detail to it to make sure that we contribute to the CNMI a beautiful product for a beautiful destination," she said.
Guests were able to purchase the Chico de Marianas chocolate souvenirs during the event. 
The Chico de Marianas range has four unique flavors — ma'aksom (citrus sour lime), duci (tropical sweet mango), pika (spicy hot pepper), and ppwil (creamy sweet potato)—truly represents the islands.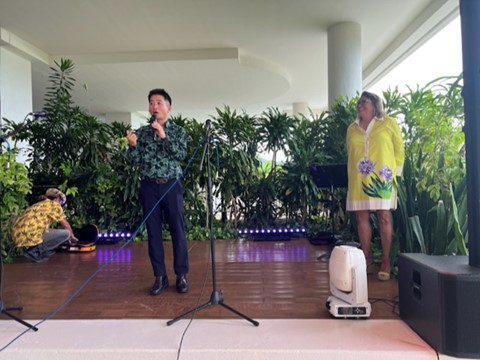 Organically grown small-round type Saipan limes, ma'aksom is known for its juicy flesh, acidic flavor, and refreshing aroma, while duci are mangoes grown on Saipan that have a dainty subtle curve with blushing red end and golden yellow flesh inside.
Pika, meanwhile, has been made famous by Tinian's yearly Pika Fest that celebrates the island's donne sali hot pepper, which may be small in size, but intensely spicy in taste.
Lastly, ppwil is Rota's kamutis sweet potatoes that are known for their sweet flavor, rich texture, and tinted purple color. The advice is to enjoy them in order —s our (ma'aksom), sweet (duci), spicy (pika), and creamy (ppwil) — to experience the rich flavor of the chocolates.
Chico de Marianas is available 10 a.m. to 5 p.m. daily from the OHAS Café in Kensington Hotel Saipan for $19.90 per box and $70 for four boxes and also available at the DFS Galleria Saipan.
mbj