by GIFF JOHNSON
Journal Staff
MAJURO, Marshall Islands — The recent extension of a tuna supply contract between the world's largest retail company and a Marshall Islands startup expands a milestone opportunity for fishing nations in the Pacific.
Walmart and the Majuro-based Pacific Islands Tuna Provisions LLC — a joint venture between the Marshall Islands Marine Resources Authority and The Nature Conservancy — started in 2022 with a one-year contract for the supply of tuna. That generated eight shipments through the year, producing 11 million cans of Walmart's house brand tuna, Great Value.
Walmart dispatched some of its top executives to the Marshall Islands earlier this year to further the tuna supply relationship, leading to two-year extension.
"The signing was an historic moment for a giant retail store buying direct from Marshall Islands," John Silk, the minister with fisheries oversight, said. "This partnership with Walmart is beneficial to our economy, as more jobs would be available as we progress in this special relationship."
Pacific islands that are the tuna resource owners have been largely relegated to selling licenses to vessels to fish in their waters. Some islands have been successful in developing tuna processing plants. But Pacific islands are largely bystanders when it comes to most of the tuna supply chain.
The Parties to the Nauru Agreement — nine islands that control waters where most of the world's skipjack is caught — has changed the paradigm with its "vessel day scheme" that manages the purse seine tuna fishery in PNA waters.
Because of the sophisticated and integrated tuna management program operated by PNA with its vessel day scheme for the purse seine industry, "What Walmart wanted, we've been doing for some time," said Marshall Islands Marine Resources Authority Director Glen Joseph. "We check mark all the boxes."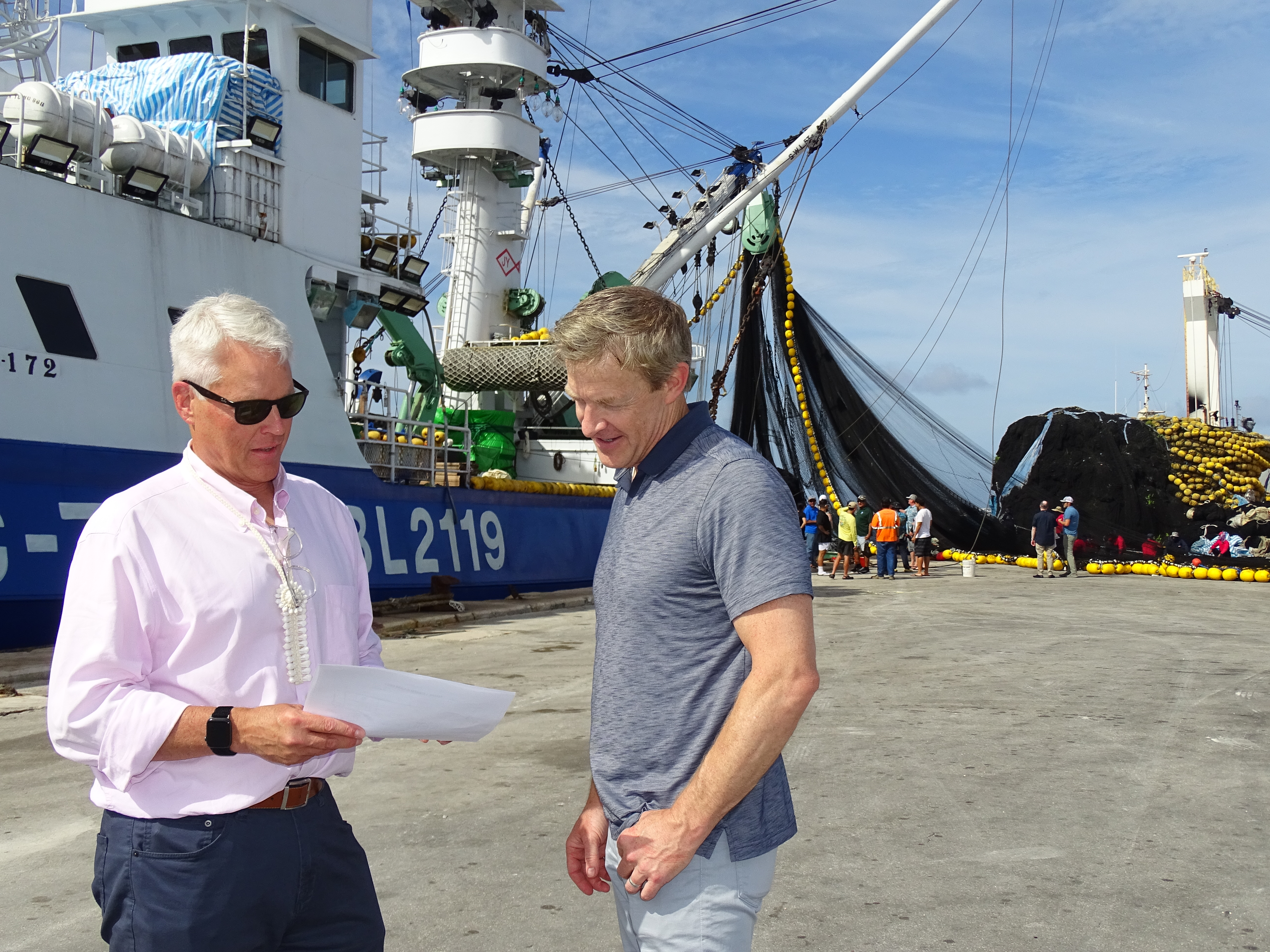 In the age of increased corporate responsibility for conditions of workers and quality of products provided, PNA is already setting a high standard that allows its members to engage in other aspects of the tuna value chain, Joseph said. But one country had to take the risk to elbow its way into an area of the tuna fishery historically controlled by a few large global tuna supply corporations. The MIMRA-TNC partnership has been focused on combining business development with sustainable management of the fishery, positioning them to establish Pacific Island Tuna Provisions LLC to engage with Walmart.
"It is a first for the Marshall Islands and the Pacific region to engage directly with a retailer" to supply tuna, Joseph said, adding they've got a foot in the door now. "But there is a heck of a lot more to do to make it successful."
As a result of the initial success of the supply contract with Walmart, other PNA nations are interested in joining the supply line to the United States market that Walmart has opened. MIMRA and TNC have been presenting various options to PNA leaders for scaling up the supply of tuna by involving other islands in the program.
"We're excited by this opportunity," Walmart executive Brandon Nikolish said on his first visit to Majuro in early July that led to the signing with Minister Silk of the two-year contract extension. Nikolish, who is Walmart's director of Global Sourcing, said Walmart is also looking farther down the road for this partnership. A key part of sourcing tuna from the Pacific is giving more ownership to people who are catching and processing the tuna, he said. In time, Walmart expects to see change in the industry and Nikolish said his company is happy to be a catalyst for these changes.
By July this year, the Marshall Islands company had supplied tuna resulting in 20 million cans of Walmart house brand tuna since the supply began in early 2022.  
While this may seem like a lot of cans of tuna, Joseph said Walmart officials told him this supplied only the stores in the Northwest Arkansas region. "We want to scale the supply of tuna," Joseph said, adding the goal is to reach a level of tuna supply that will generate 100 million cans of tuna annually — a 10-fold increase over the 2022 volume.
Currently, 15 of the more than 200 purse seiners active in the region are supplying tuna for the Walmart market. Joseph sees this expanding over time with greater participation from other members of the PNA. mbj