BY MAUREEN N. MARATITA
Journal Staff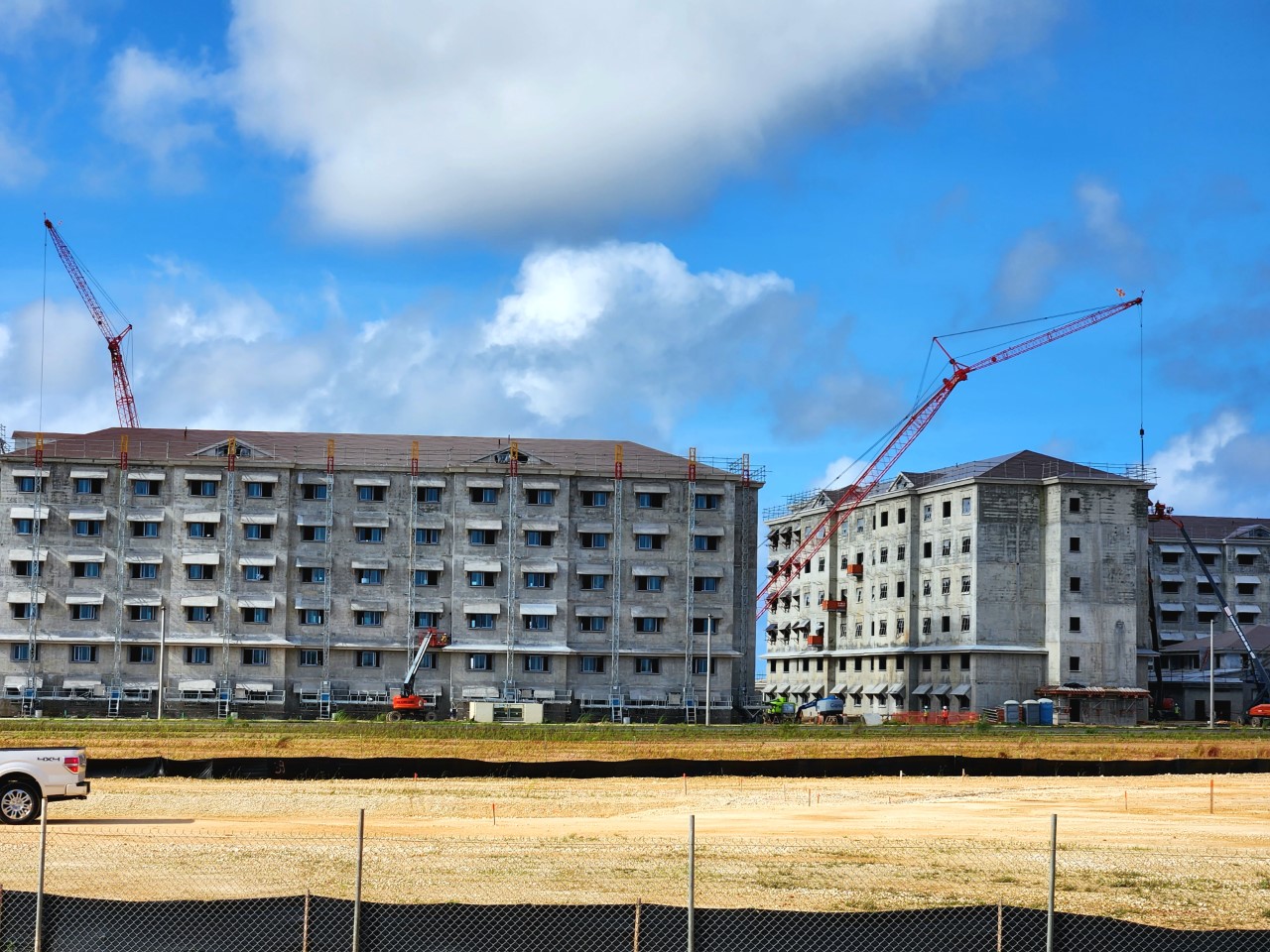 A lot of numbers are talked about in relation to the Pacific region and the U.S. military's plans for the islands.
The largest of these figures relate to the funding planned to be spent on construction - $1.2 billion to $2 billion a year, with $1.2 billion forecast to be spent in fiscal 2023 and $2 billion in 2028.
There are several challenges that have slowed construction such as labor issues and supply chain issues and pushed the peak of that construction back in a period of 18 months. (See charts), while the dollar figure anticipated to be spent per year has increased.
A large piece of the military construction planned for Guam is Marine Corps Camp Blaz, for which the U.S. government has allocated about $8.7 billion, with Japan funding about $3 million of that. Construction is about halfway along.
Some work is due for completion at the end of this year, such as the fire station and the bachelor enlisted quarters between the end of this year and 2026. Three of the multi-story BEQ towers are due to complete first. The BEQs will house 598 Marines each for a total of 4,784 Marines. The construction also includes two bachelor officer quarters that will house 194 Marines each, for a total of 388 Marines.
Housing and anything related to "quality of life" is typically prioritized.
Camp Blaz is designed as a "walkable" base with the reasoning being that deployed Marines will not need a vehicle. The base already has street signs that acknowledge operations in World War II.
Rosenfeld said a Navy exchange and a gas station/mini mart will be constructed on Camp Blaz.
The Concourse Group LLC of Annapolis, Md., was awarded a $35 million contract for the Department of Navy's "public-private venture and real estate programs," in December, with work being performed in Guam.
The plan is clearly for Camp Blaz to have adequate housing for its needs and has time to ensure that. Maj. Dianne Rosenfeld, public affairs officer for Camp Blaz; told the Journal the base will gradually increase its staffing over the next decade. "We are and will continue to grow our headquarters staff to support the beginning of force flow. … As currently planned, not all Marines will arrive at once, but incrementally through the end of the 2020s."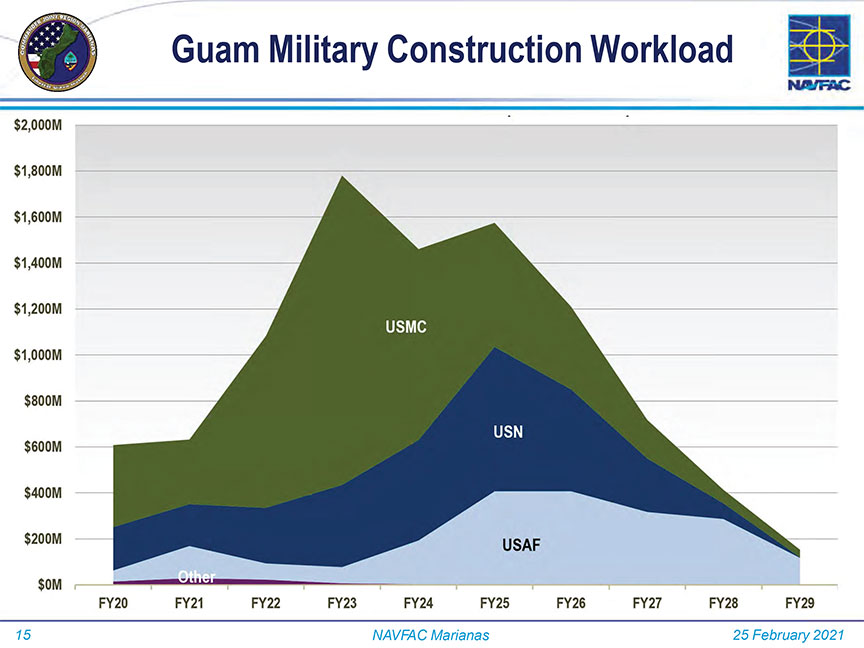 Rosenfeld said there are 39 Marine personnel in Guam. "Current Marine Corps Base Camp Blaz personnel live both on-base and in the community. Those that live on base are spread between housing on Andersen Air Force Base and Naval Base Guam."
About two thirds of Andersen Air Force Base personnel live out in the community, according to Journal files.
On Jan. 20, a ribbon cutting was held for the first group of newly developed duplexes, 38 units out of 186 units, "increasing the family housing joint inventory across the island at Andersen AFB," the 36th Wing at Andersen said. Black Construction Corp. was the prime contractor for the housing.
Estimates the Journal has heard are that between 1,300 to 2,000 personnel will come from Okinawa and live in Guam out of a widely referenced "5,000" personnel that will rotate for training.
Camp Blaz has about 110 civilian employees, and that number is expected to move higher also, Rosenfeld said. "Much like our uniformed members, our civilian workforce continues to grow as we increase installation support.
Alongside the Marine force flow, several hundred civilian jobs will open in support of the base. Local hiring opportunities will include jobs for both skilled labor and a professional workforce."
Rosenfeld said Camp Blaz staff are aware of the importance and the impact of the Marine Corps build-up.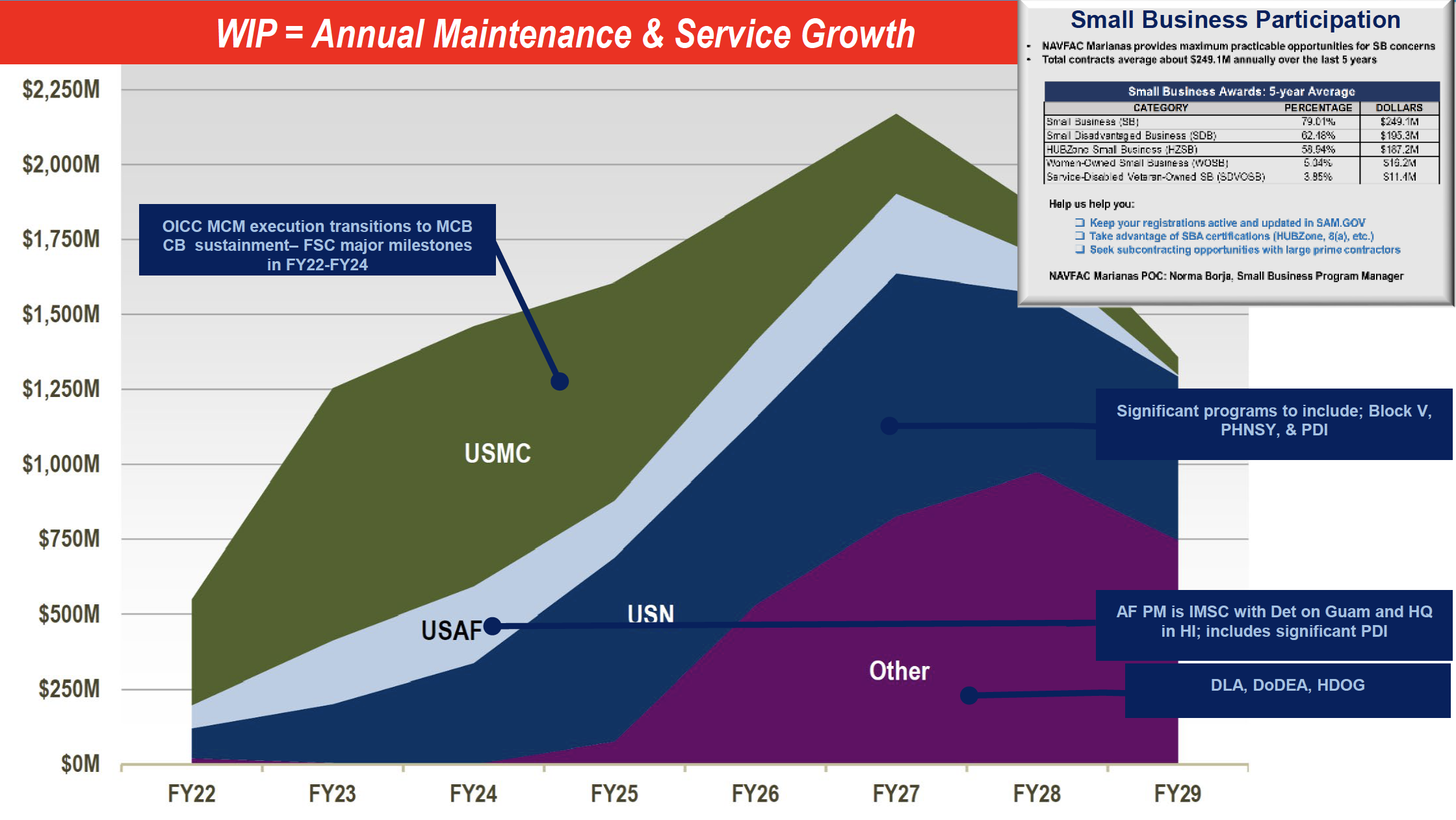 "We recognize that the effort is multi-faceted," Rosenfeld said.
"Certainly, the positive economic impact is felt by those directly associated with the construction effort. We also recognize that the increase in Marines and civilian personnel directly impacts the community through general utilization of the local economy, retail spending, service acquisition, and taxation," she said.
"We also are keenly aware of the build-up's impact on the island's cultural and natural resources and are committed to avoiding or mitigating any associated impacts to those irreplaceable resources." mbj