BY MARK RABAGO
Saipan Correspondent
GARAPAN, Saipan — The Saipan Chamber of Commerce wants a workers visa that will encompass both the Northern Mariana Islands and Guam as it faces dwindling NMI-only workers each year as the foreign worker program winds down in 2029.
Speaking during the Aug. 2 general membership meeting at the Crowne Plaza Resort Saipan, Alexander A. Sablan, vice president of Tan Holdings and chamber board director; said the One Marianas workers visa was broached during a recent meeting with staff from the office of James C. Moylan, Guam's delegate to Congress.
Sablan and Camber President Joe C. Guerrero and representatives of the Hotel Association of the Northern Mariana Islands and the Society for Human Resource Management's NMI Chapter and others, traveled to Washington, D.C. in July to lobby for a delay on the controversial touchback provision of the Northern Marianas Islands U.S. Workforce Act or Public Law 115-218.
Under the rule, foreign workers with "CW" work visas must leave the NMI for at least 30 days after two renewals of their CW-1 visa classification.
"[We're] looking at the opportunity to see if there could be — this is outside-the-box thinking — a One Marianas H2B-esque visa if we are to move away from [the CW program]. We need some type of visa that will work within the Marianas for day laborers, which is really what is a necessity in augmenting our need for a labor force in the Commonwealth," he said.
Sablan went on to say that the neighboring U.S. territory has been using an H2B-esque type visa which allows individuals to work outside the "U.S. military fence" if there is a particular project that has a connection to the military buildup in Guam.
"That's what we would like to jump on if it's an annual requirement that's going to need to move labor down beyond 2029. The idea is to use the military component as the nexus to justify the labor issues," he said, adding that the construction of military bases on Tinian could be the perfect nexus for such a proposal.
Sablan also presented the hardships the NMI has gone through the past couple of years for the powers-that-be in Washington, D.C. to hopefully consider a One Marianas worker visa proposal.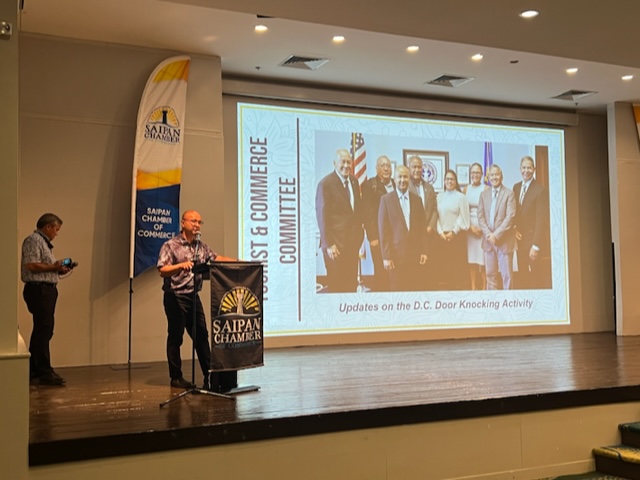 In 2016 to 2017, the NMI's gross domestic product was more than $1 billion, but overall economic activity in its islands precipitously dropped to $940 million in 2018 to $661 million in 2020, he said. The NMI also went from 27,000 workers in 2019 to 23,000 by 2020.
Sablan also floated the idea of initiating 902 talks with the U.S. government to help solve the CNMI's current labor woes.
Section 902 of the NMI's Covenant with the U.S. allows for periodic consultations between the commonwealth and federal governments "on all matters affecting the relationship between them."
On the issue of the touchback rule, Sablan advised businesses with foreign workers, or CW-1, affected by the touchback rule to prepare as if it's a foregone conclusion.
"As we've heard from our secretary of labor and other individuals in the community, don't hold out as we need to be planning on touchback because, again, it's going to take a Hail Mary [pass] to have anything changed," he said.
A delay in the touchback rule could only happen if an amendment somehow successfully piggybacks on the National Defense Authorization Act, Sablan said.
"Touchback is something that's an 11th hour Hail Mary call with the NDAA. There's a slight chance there could be an amendment made. That is the only bill that we're going to be able to jump on this fiscal year … I wish we had better answers for you about what touchback is going to do and mean. At the end of the day, we are waiting on calls from the White House Office of Intergovernmental Affairs. ...We've written letters to our governor and [Delegate Gregorio Kilili C. Sablan] on several different issues that we could possibly tackle," he said.
Guerrero said their trip to Washington, D.C. did bear some fruit as they were able to get a promise of administrative solutions to speed up CW applications affected by the touchback. 
Currently, pending CW applicants have to wait 6-8 months for their CW visas to be approved. Guerrero said they were promised that the projected application time will possibly be cut in half.
The Aug. 2 meeting also featured Roberta Guerrero, executive director of the Mariana Islands Nature Alliance; who touted the non-profit's new plastic recycling campaign.
She said MINA recently acquired a 3-in-1 Plastic Upcycling Machine that creates products for a myriad of uses for the local community. 
Using recycled plastic that usually ends up at the dumpsite in Marpi like soda and mouthwash bottles, peanut butter, salad dressing, and vegetable oil containers, plastic bags, milk jugs, and even discarded plastic toys, MINA has produced all sorts of household products ranging from plastic bowls and strainers, to snack clips, and Lego-like bricks for children.
The 3-in-1 Plastic Upcycling Machine works like a charm as sorted plastic first goes into the shredder hopper before it passes through an extrusion machine. It then gets funneled into an injection machine where it is fashioned into different items for daily use.
Guerrero said the genesis for the new plastic recycling campaign came after MINA found out that the CNMI Public School System's meal program produces a lot of plastic waste from the containers it uses.  She said PSS distributes approximately 3,392,820 meals a year and that's a lot of plastic bottles, plastic forks and spoons, and plastic food containers that could end up in the soon-to-be over-capacity landfill in Marpi.
Northern Marianas College Career manager Neda C. Deleon Guerrero, career manager at the Northern Marianas College; also introduced the college's new "Handshake Platform."
She said Handshake is the nation's No. 1 college-to-career network. It has partnered with more than 1,400 colleges and institutions across the country including the Pacific.
"The goal is to help every student find a great job and build the foundations of a meaningful career, no matter who they are, where they're from, or who they know," said Deleon Guerrero.
Handshake has a browse feature where NMC students and alumni can see recommended jobs and events, message directly with employers, schedule advising appointments, and apply for jobs and get interviews. Deleon Guerrero said students are five times more likely to be contacted by an employer if their Handshake profile is complete. 
For employers, Handshake provides powerful tools to drive every part of a company's early talent hiring. Aside from building your company brand by signing up with Handshake, companies can also find talent, post all job opportunities, and build relationships through the Handshake network.  
mbj