BY MARK RABAGO
Saipan Correspondent
GARAPAN, Saipan — The NMI's business and tourism communities welcomed the opening of OHAS Boulangerie & Café.
Joe C. Guerrero, president of the Saipan Chamber of Commerce; said E-Land Group's new investment in the middle of Garapan bodes well for the islands' future business outlook.
"This is definitely a welcome investment. … Now is the right time to invest in Garapan and especially with all the infrastructure improvements the government is doing," he said.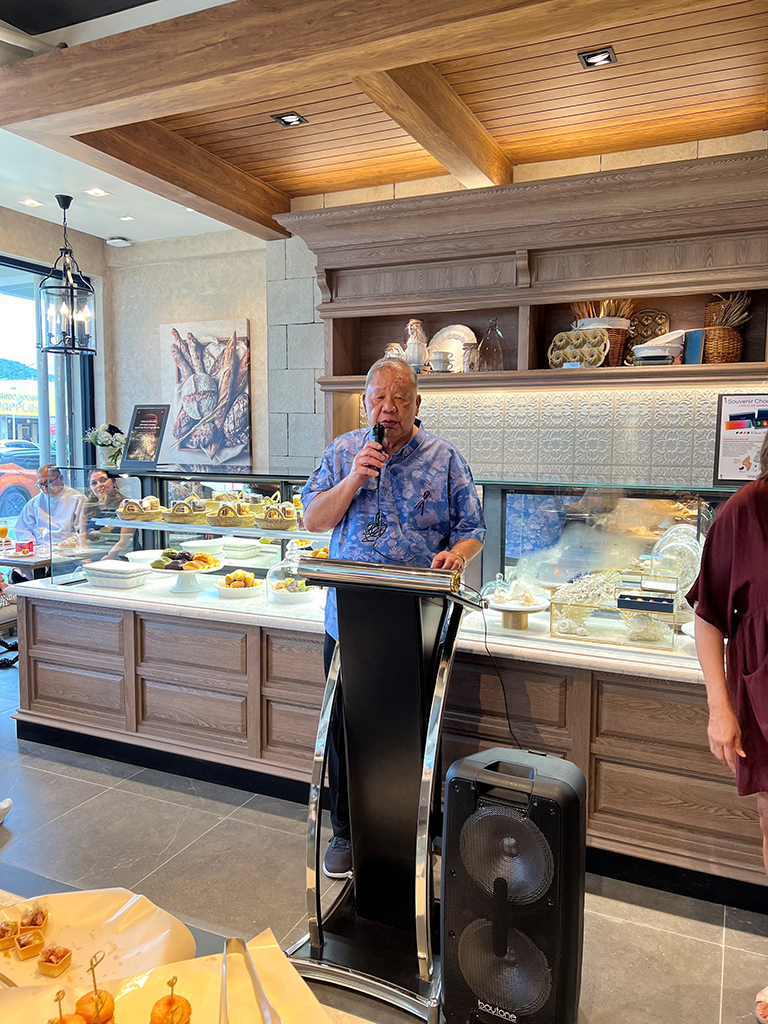 Guerrero, who owns Naked Fish Bar & Grill Saipan, said the South Korean conglomerate is ahead of the curve in expanding to the tourism district. "You might not really have space later, so I think it was very strategic on their part to get this beautiful corner lot. Overall, it's a nice sign for the community that despite all the challenges, things will get better."
Christopher A. Concepcion, managing director of the Marianas Visitors Authority; said OHAS Boulangerie & Café reminds him of the high-end bakeries and pastries shops in Seoul. He said MVA welcomes businesses that cater to locals as well as tourists. "This is the latest development that we've seen in the Garapan district since the Garapan Revitalization Program started its work last year, so we're very excited," Concepcion said. He previously led the Garapan Revitalization Program Task Force.
OHAS officially opened with a VIP launch party Sept. 29. Among the guests were Gov. Arnold I. Palacios, Lt. Gov. David M. Apatang, members of the NMI Legislature, heads of government agencies, and business leaders.
Brian Shin, CEO of E-Land; said OHAS heralds a new chapter in the company's journey in the NMI.
"In 2011 we landed in the CNMI with a dream of becoming a key member of the community and grow together and I believe our dream is still ongoing. But we felt that we still need more effort from our end as much as we need the support from the community. We very much trust the bright future of the CNMI and that is the reason we continue to invest here. I think this bakery in Garapan is definitely one step closer toward our dream," he said.
Shin said E-Land can now say it has a presence in the north (Kensington Hotel Saipan), south (Pacific Islands Club Saipan and Coral Ocean Resort), and center of the island (OHAS Boulangerie & Café). He also said OHAS gives Saipan another landmark tourists can enjoy.
"As a member of the tourism industry of the CNMI, the revitalization of Garapan is essential to our success. Our tourists definitely need to feel welcome and need to find something to do and a place to go. We believe that this small bakery will add to that cause," he said.
 OHAS Boulangerie & Café, at the corner of Beach Road and Orchid Street in Garapan, is open from 7 a.m. to 9 p.m. daily. It offers different baked goods, with bread, pastries and cakes baked daily in-house. Customers can order cakes in advance.
For more information, call (670) 233-6427 or visit the OHAS Facebook page. 
mbj