To subscribe to the Journal and to sign up for free breaking News Updates, visit www.mbjguam.com

BY MAUREEN N. MARATITA
Journal Staff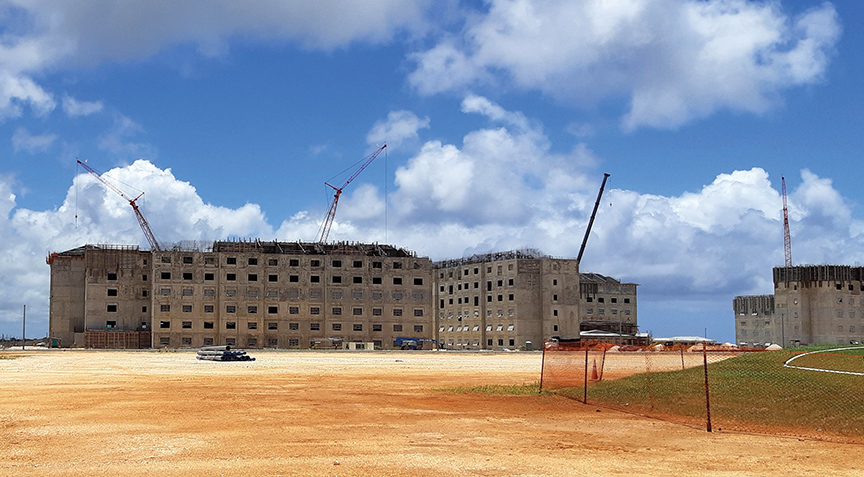 Jan. 3
Walmart begins tuna deal with Marshall islands joint venture corporation
Walmart, the American mega retail store, approved its first order of canned tuna from a Marshall Islands company – an order that launched Walmart's monthly purchase of container shipment loads of canned tuna sourced through the Marshall Islands – using tuna caught sustainably throughout the Parties to the Nauru Agreement region in the central and Western Pacific.
"This is opening the opportunity for participating in the tuna value chain," said Gene Muller, the general manager of Pacific Island Tuna Provisions, a limited liability corporation registered in the Marshall Islands. Set up to pursue commercial tuna opportunities that support sustainable fishing in the region, PITP is a joint venture between the Marshall Islands Marine Resources Authority and TNC. 
Feb. 7
All business: JRM commander juggles multiple eggs
Rear Adm. Benjamin R. Nicholson aims to have his finger on the pulse of all the responsibilities that go with his titles: commander of Joint Region Marianas, commander of the U.S. Indo-Pacific Command, commander of Task Force West, and senior military official for Guam, the Northern Mariana Islands, Federated States of Micronesia, and Palau.
He's not only had the opportunity to travel to Koror for Compact talks; Nicholson also visited Peliliu and the Rock Islands, as well as Angaur and Babeldaob. "I wanted to see as much as I absolutely could," Nicholson told the Journal on Jan. 26. His aim was to visit existing sites where the U.S. has or has had a presence in Palau.
March 7
From house to home: Modular models take off
Phillip Law, principal broker and managing partner for Property Shop, began his newest business venture in March 2021.
Law is partner and strategic development manager for Pacific Modular Designs, which is approaching its first anniversary. "We've been taking it slowly to start — making sure we're finding the right product for our environment," Law said.
Pacific Modular Designs offers modular buildings that can be used for either commercial or residential purposes, with a current focus on residential.
April 4
In with the new: hotel to rebrand within weeks
One of Guam's leading hotels will rebrand — forging a new relationship and investing significantly in its property.
The Sheraton Laguna Guam Resort in Tamuning will become the RIGHA Royal Laguna Guam Resort on April 21.
Noboyuki "Kevin" Tsurui, general manager of the Guam property, told the Journal, "I am excited that we are rebranding ourselves on the 21st of April." The RIGHA Royal will see an investment of "seven figures-plus" in the property, Tsurui said. The hotel will add a new bakery and another bar at its infinity pool. "A quarter of the room inventory will be upgraded by November," he said.
Miyuki Rierson, director of sales and marketing at the hotel, said upgrades will progress further. "We will continue to refurbish the entire property."
The hotel has re-carpeted the ballroom and recently painted the exterior of the property. No changes will be made to management or staff at the hotel, Tsurui said.
May 2
Out of sight, out of mind: The U.S. veteran experience in the FSM
Estimates vary on the number of citizens of the freely associated states serving in the U.S. military — let alone the number of veterans.
In April 2003, the Embassy of the Federated States of Micronesia in Washington said that "an estimated four to six hundred Micronesian citizens are serving on active duty with the U.S. military." When President David W. Panuelo visited Washington D.C. in October 2019, the U.S. Department of Defense said in a release about the visit that, "Published reports indicate up to 1,500 Micronesian citizens serve in U.S. forces." In July 2021, Task Force Oceania said "approximately 500 Palauans" were currently serving in the U.S. armed forces.
The newest leaders in the U.S. Veterans of Pohnpei Association in the FSM took the reins earlier this year, and one of their first courses of action was to put in the much-needed effort in doubling down and creating a list of veterans in not only Pohnpei, but all the freely associated states. According to Herman Semes Jr., USVPA's president, the U.S. Embassy in the FSM also compiled a list of veterans in the area, tracking more than 200. "I think that number may have to be updated, though," he said. "The number is likely higher because a lot of veterans are returning."
June 6
Wages going up beyond minimum wage as hundreds of job vacancies remain unfilled
What are employers willing to pay for staff in a job market with more vacancies than willing individuals to fills them?
During the week of May 30, almost 700 positions were advertised on one online site.
While some jobs advertised online in Guam give wages or entry level wages of $9.25 per hour — the minimum wage — many do not. Those that posted higher figures online include $11 to $15 per hour for an administrative assistant, "up to" $20 per hour for a delivery driver, $12 to $23 per hour for administrative support and $16.50 to $17.50 for a maintenance worker. Other local ads offered work for servers from $11 per hour.
Guam Temps Inc. predominantly supplies temporary staff to a variety of clients in Guam, though the staffing agency does have contracts with companies where there is an option to convert personnel to permanent employees. Jenynne Guzman, president of Guam Temps Inc., told the Journal, "In our market we are seeing it's getting more competitive."
July 4
In the wings: Islands ready for Japan visitors; hotel group preps for action
Both Guam and the Northern Mariana Islands are in the process of marketing to Japanese visitors as restrictions ease and airlines increase flights.
Meanwhile, the largest hotel group in Guam is planning its own support of the Japan market and the island's renewed tourism efforts. Mitsuo "Mike" Sato, president of P.H.R. Ken Micronesia Inc., said that his group will once again bring charter flights to the island.
"Our parent company — Ken Corp. in Japan — was providing charters daily between Narita and Guam from October 2018 to March 2020," he said. Ken Corp. was forced to stop the charters with the onset of COVID. "Ken Corp. will resume charters soon," Sato said. When that will be exactly is still a moving target and depends on the willingness of Japanese to travel. (See "Rising prices may keep Japanese at home in the short term or vacationing in Japan," on Page 3.)
Aug. 1
Storing up for the future: Retailer poised for action in the islands
If anybody should know the prospects for the regional retail industry it would be Richard Hawes, managing director of the Gemkell Group of Companies. Gemkell's basket of brands is currently spread into three islands. In Guam, the group has Balenciaga, Chloe and Givenchy brands at Tumon Sands Plaza. The group also has Marc Jacobs, Kenzo, Langchamp, Le Sports Sac and Balenciaga brands at The Plaza. There is also a Lacoste store at the Micronesia Mall.
Hawes said he has 100% confidence in the return of the market "to the point where we're going to be building a brand-new Balenciaga flagship store." The store is already being designed and will be at the Plaza. "We're doubling the size of the existing store; it's going to be almost, 2,000 square feet with a two-story façade covering three bays." The façade facing Pale San Vitores Road will be striking in size, he said.
The Balenciaga store is anticipated to open in the first quarter of 2023. "It's going to be over $1 million in investment," Hawes said. Aside from the current Balenciaga store, the expansion will take the Marc Jacobs space also. "And because we're moving Marc Jacobs, we'll have to build a new Marc Jacobs store," he said. The expansion will take Gemkell staff to about 50.
Sept. 5
Ticking the box: Distributor turns to new field
Norman S. Yuen was known in the business community and to his friends as a distributor and retailer of appliances. But after decades in the white goods industry, he decided to officially retire in 2014.
Yuen is now what's known in the U.S. as an "encore entrepreneur" – a person aged 55-plus, who opens a small business. Salut Guam, which Yuen is launching this month, will import and wholesale fine wines and spirits. But the small business didn't happen overnight.
Yuen's love affair with wines didn't begin well. "We had a distributor conference annually and wines were always served with each meal. I didn't like wine at all at that time, because I thought wines tasted bitter," he said. Then Yuen sipped a German Riesling and "the fruity aromas" changed his mind about wine.
Yuen developed not only an interest in wine, but his palate. With a property and children and grandchildren in California, annual visits there allowed him to pursue what at the time was still a hobby. Still, he began attending wine conferences and developing relationships as a customer. "In 2018 I started going deeper:  asking about a distributorship to Guam," he said. The timing was not good as fires in California decimated wineries and affected their output in 2020 and 2021. "Then we had the pandemic," Yuen said. But he achieved his goal and is now a licensed importer and wholesaler.
Oct. 3
Game of thrones: Crowne hotels prep for planned openings
The new Crowne Plaza Resorts in Tumon, Guam and Micro Beach, Saipan are nearly ready for ribbon cuttings.
The Crowne Plaza Resort Saipan is accepting bookings beginning with Oct. 25. The opening date for the Guam resort is uncertain. As of Sept. 28, the permits for the Crowne Plaza Resort Guam are being worked on, according to Department of Public Works Deputy Director Linda J. Ibanez. Occupancy clearances are in progress for renovated guest rooms, the lobby and swimming pools. There is a partial occupancy permit issued for the hotel's kitchen for
testing. And the testing and certification of the fire suppression system is in progress, DPW told the Journal.
The Saipan and Guam Crowne Plazas were initially expected to open at the end of 2021 and early 2022, respectively, according to Journal files. There have been delays, however, like with many other businesses. In a world with COVID-19, shortages of materials and equipment and delayed shipping have impacted nearly every facet of business. Another area impacted is construction costs. The Guam hotel was in the $40 million range, as of the last Journal update on the projects. And construction in Saipan has exceeded $30 million when it was originally estimated at around $25 million.
Nov. 7
Uncle Sam wants you: Navy looking for local business partners
The message that Jimmy D. Smith, director of small business programs for the U.S. Navy brought from Washington, D.C. to Guam and Saipan's small businesses (and some large ones) is a simple one. The U.S. Navy is looking to award contracts to the region's small businesses in the Mariana Islands. Navy needs relate to the military's regional realignment, but also go beyond that, he said.
His first visit to the region in September was purposeful, Smith said. "It's connected with the Marines coming down from Okinawa to re-establish themselves on Guam, but there's also a bigger reason that I was there outside of just the Navy." The entire Department of Defense is focused on Guam, he said. "Guam is like this pivot point for the United States military right now." All branches of the military play a significant role, he said, to include the Navy, Air Force, Army and Missile Defense Agency. "And I see that role expanding. My main reason for coming to the island was to ensure that local industry partners there are procurement-ready for doing business with us and recognize that there's an expansion coming."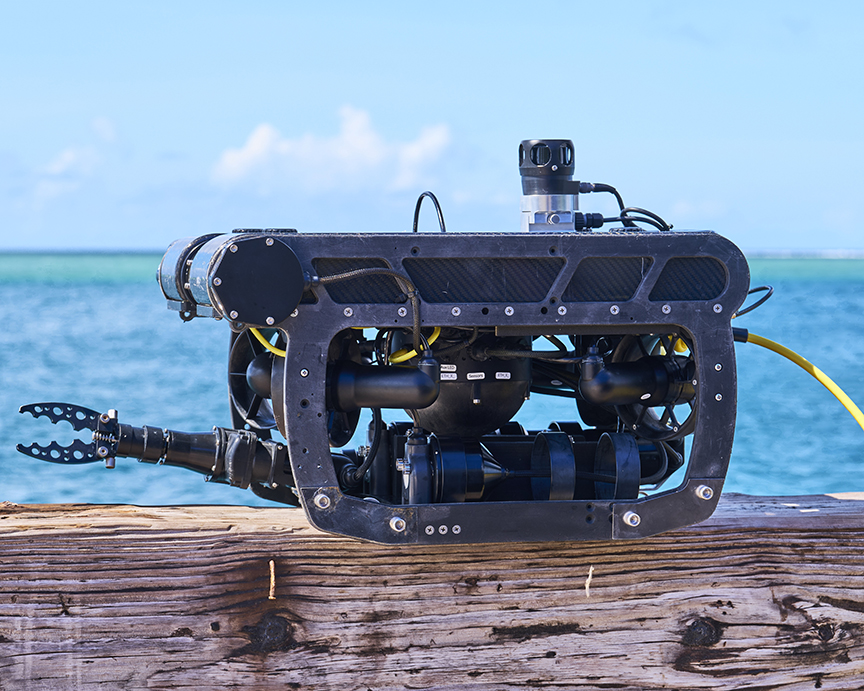 Dec. 5
Venturing out: Drones take to the water for commercial use
Remotely operated vehicles or drones offer multiple possibilities for the world of entertainment, and leisure, or be put to use in a variety of commercial and industrial fields.
One company operating in Guam is taking the potential of ROVs and demonstrating their scope, as well as developing a workforce to pilot ROVs.
Duenas, Camacho & Associates Inc. — the engineering and consulting firm headquartered in Guam — has retained Michael J. Wilder as a contractor to do just that.
He told the Journal that the ROVs that he works with are purposeful. "These are not toys. … These are workhorses," he said. "An individual wouldn't buy one; they are much too expensive." ROVs have developed in about the last decade to also offer a more manageable size and a few companies are making smaller, more versatile versions, Wilder said, but can still cost $100,000.
Still, their utility makes them essential for certain purposes. "Anything that a diver would be doing can be done with an ROV," Wilder said. mbj