Palau and the U.S. signed an agreement enhancing an existing shiprider agreement to help expand security efforts of the island nation's exclusive economic zone.

The agreement enables the U.S. Coast Guard to enforce regulations at sea in Palau's exclusive economic zone (EEZ) on behalf of Palau without a Palauan officer present, according to a press release.
Prior to this agreement, the U.S. Coast Guard would have to have a member of Palau's maritime security force on board to execute certain patrol and protection efforts.

"The United States and the Republic of Palau share common interests and values supporting a free and open Indo-Pacific. This agreement will help us meet our security commitments in Palau by increasing maritime domain awareness and preventing IUU Fishing within Palau's EEZ," said U.S. Embassy Koror's Chargé d'Affaires, Andrew J. McLean.

Palau has reported illegal fishing as both a challenge to the nation's local economy and security. There also have been reports of Chinese vessels either skirting or coming within the boundaries of their EEZ.  

"This agreement helps Palau monitor our exclusive economic zone, protect against Illegal, Unreported, and Unregulated fishing, and deter uninvited vessels from conducting questionable maneuvers within our waters," said President Surangel S. Whipps, Jr. "It's these types of partnerships that help us work toward our common goal of peace and prosperity in the region."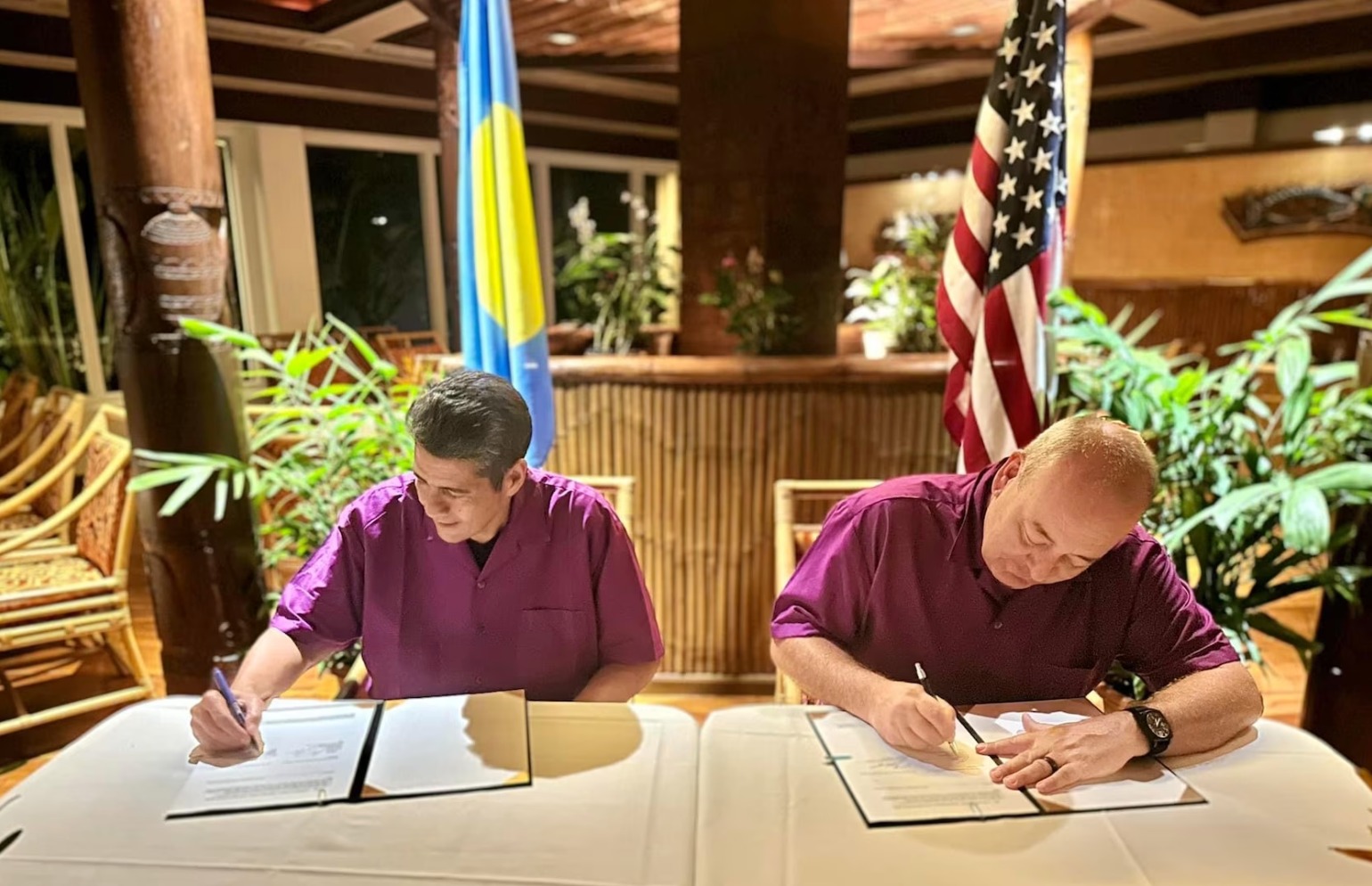 The shiprider program supports regional coordination and aligns with the Pacific Partnership Strategy, contributing to the U.S. Coast Guard's Operation Blue Pacific and Operation Rematau, according to the press release. The bilateral agreements enacted in the Pacific convey the United States' ongoing investment in protecting shared resources and an interest in maritime safety and security. They also embody the U.S. Coast Guard's unwavering commitment to maritime safety, security, and stewardship in Oceania. They comprise more than 600 members in Hawaii and 300 members based in Guam and the Commonwealth of the Northern Mariana Islands.

This advancement follows the similar agreement signed with the Federated States of Micronesia in October 2022, under which the U.S. Coast Guard has conducted boardings for FSM. Additional recent regional security advancements also include the bilateral defense agreement signed with Papua New Guinea in May 2023, recently ratified by the parliament, which will enable U.S. Coast Guard boarding officers alongside their Papua New Guinea counterparts to conduct boardings in PNG's EEZ for the first time later this year.

Through Operation Rematau, an integral part of Operation Blue Pacific and led by U.S. Coast Guard Forces Micronesia/Sector Guam, U.S. Coast Guard personnel actively exercise several of the 12 bilateral maritime law enforcement agreements with Pacific Island Countries annually. These agreements, which include the landmark enhanced shiprider arrangement with FSM, reinforce maritime law enforcement operations, bolster maritime domain awareness, and foster security, safety, sovereignty, and economic prosperity throughout Oceania.

Palau is a sovereign nation comprised of about 340 islands, islets, and atolls with an EEZ roughly the size of Texas. The Palauan economy is mainly based on tourism, alongside an essential fishing industry and small-scale subsistence farming.

"We're thrilled to deepen our partnership with the Republic of Palau, an island nation with a rich history and a strong commitment to protecting their maritime resources," said Capt. Nick Simmons, U.S. Coast Guard Forces Micronesia/Sector Guam commander. "This agreement, in alignment with the Pacific Partnership Strategy, significantly strengthens our collective efforts to counter illicit maritime activities in the region and reflects our shared dedication to safeguarding the people of the Pacific. It provides an avenue for our teams, including our proven Fast Response Cutter crews, to increase our support to our partners in Palau." mbj