BY OYAOL NGIRAIRIKL
Journal Staff
KOROR, Palau — Entrepreneurship is in the blood for Miel Sequeira-Holm, creator of Pura Vida Palau products. Her reef-friendly products are sold primarily online though she's aspiring to open a brick-and-mortar once she saves enough money. 
"That's my dream," she said. Sequeira-Holm is passionate about making Palauan-made products that are safe for the environment, she also wants to build up her website to showcase other local entrepreneurs. Currently, one of her aunts who makes Palauan-style bead money earrings is the only other entrepreneur whose products are featured on her website, but she hopes to expand. 
"When I was building my website, I realized this could be a place where we can launch other Palauan-based products," she said. Sales outside of Palau have grown since she first started seriously marketing online and she said she believes that's the key to helping other Palauans who are serious about making a living from their products. 
"It's not easy," she said. She built her own website using Wix.com. And while she gets help with photos and other aspects of her social media platforms, she does most of the posts herself, which takes time. 
"You have to be consistent (in posting)," said the 23-year-old. "I've noticed that, particularly with Instagram, I get an increase in sales from Guam, Saipan, Yap and even Hawaii. So, it does make a difference." 
It hasn't been long since Palau has had internet connectivity. The first fiber optic cable went live around 2017 and a second cable is being placed now with an expected live date of early 2025. The first cable connected Palau to the world and the second is expected to improve speed and reliability. 
For Sequeira-Holm, the first cable was all that was needed to really help push her business from showcasing her products at events to the bigger platform that online marketing offered.  And though she's grateful for the online sales, the face-to-face salesmanship remains one of her favorite aspects of her business. "I love talking to people about my products and why I do them," she said.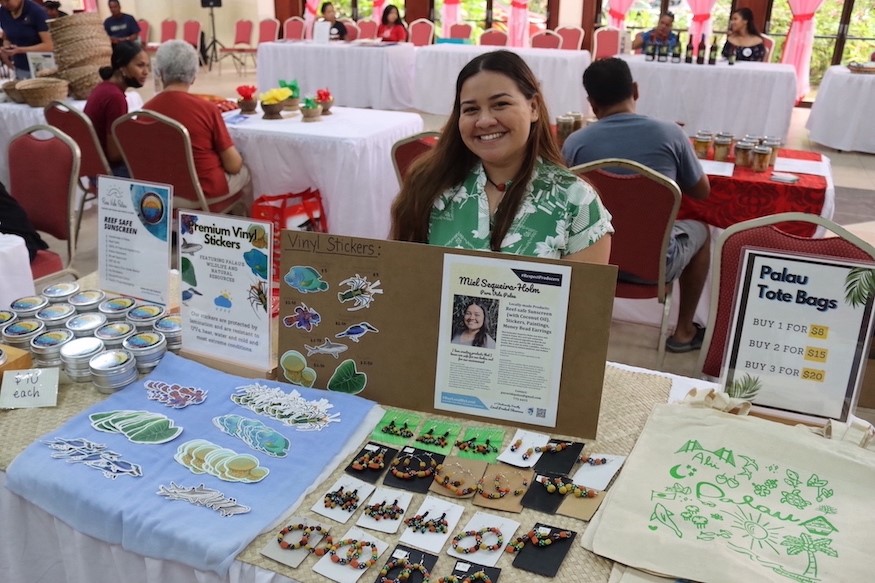 The road Sequeira-Holm took to entrepreneurship was paved by her passion for environmental conservation — illustrating that the world of business and being environmentally conscious can work together. "I've always been interested in the ocean and the environment," she said.
She works on her products at home, which is a recent development for the young entrepreneur, who got her start in the kitchen of her parent's home. 
Daughter of business-minded entrepreneur Pierre Besebes and Ngardmau State Legislator Tarita Holm, Sequeira-Holm's all-natural, reef-friendly sunscreen hit the shelves shortly after she graduated from high school in 2018. While a high school student at Palau Mission Academy, Sequeira-Holm worked to reduce chemical and plastic pollution in the oceans, spearheading a campaign to ban plastics on campus. The school banned plastic utensils in the school cafeteria as a result. After high school, she wanted to take a gap year. Her parents insisted she remain productive and so she started a journey of discovery. 
"I wanted to use my gap year to figure out what I wanted to do … and see what it was that Palau needed," she said. While in Hawaii, she met a friend of her mother's who had created a home-made sunscreen that she would sell at the market.  Sequeira-Holm was intrigued. She knew that certain chemicals were bad for the ocean's marine life and realized that some of those chemicals were used in many store-bought sunscreens. "I started doing my own research and with my parents help started making a sunscreen that was more environmentally friendly … and locally made," she said. She added that at that time her parents had their own business venture going called Palauan Made. They sold local Palauan foods and products, which she loved.  
Her father sat her down with an Excel spreadsheet to help her understand the cost of running a business — from ingredients for the sunscreen and the eco-conscious packaging to advertisement and paying herself and potentially others who would work with her. 
For the first year of Pura Vida, she said the ingredients and overall cost to make about five to six bottles of sunscreen was roughly $300. What profit she made from those she would invest back into her business. Now, out of her own kitchen, she's able to try new recipes and has a list of new products she's working on. The most recent was her tinted lip balm, which sold out quickly she said adding her gratitude to her customers and friends in Palau who have been very supportive. 
"I really believe that Palau is a great space to start your business," she said. "You can grow a lot here. There's an idea that there's not a lot of opportunity here. And maybe in some cases it might be harder, but if there's a business you want then do it. Start small. But just give it a try." Sequeira-Holm said it has been great learning and researching and creating something on her own but it's also been scary "putting yourself out there." 
"You're going to make mistakes and fail. I know I have but you can learn from them and that's how you really grow," she said.
mbj