The Marine Corps Base Camp Blaz Reactivation and Naming Ceremony
was held Jan. 26 at the War in the Pacific National History Park at Asan Beach. See upcoming full coverage of the event, the Sabanan Fadang Memorial Ribbon Cutting at Camp Blaz and related stories.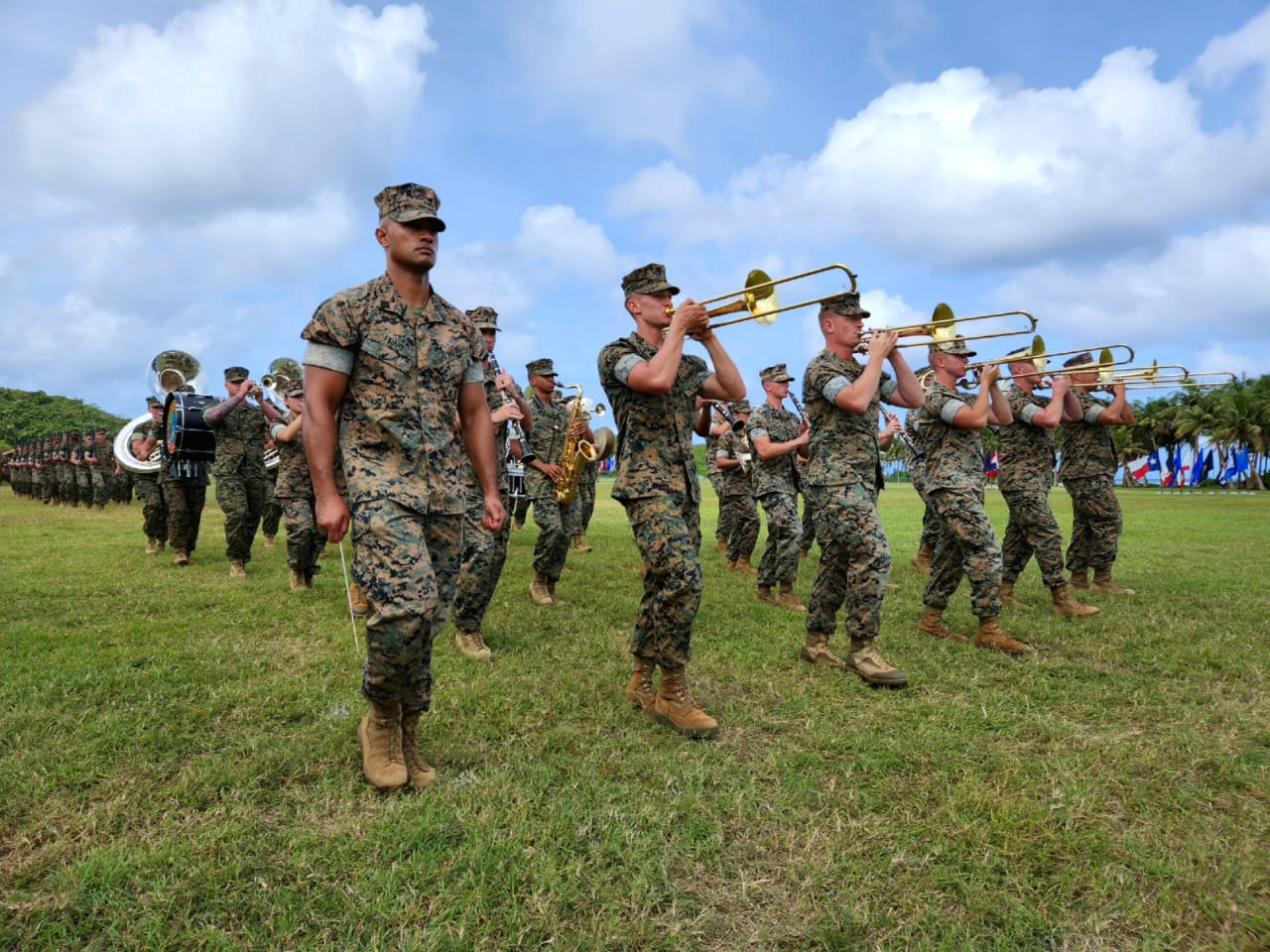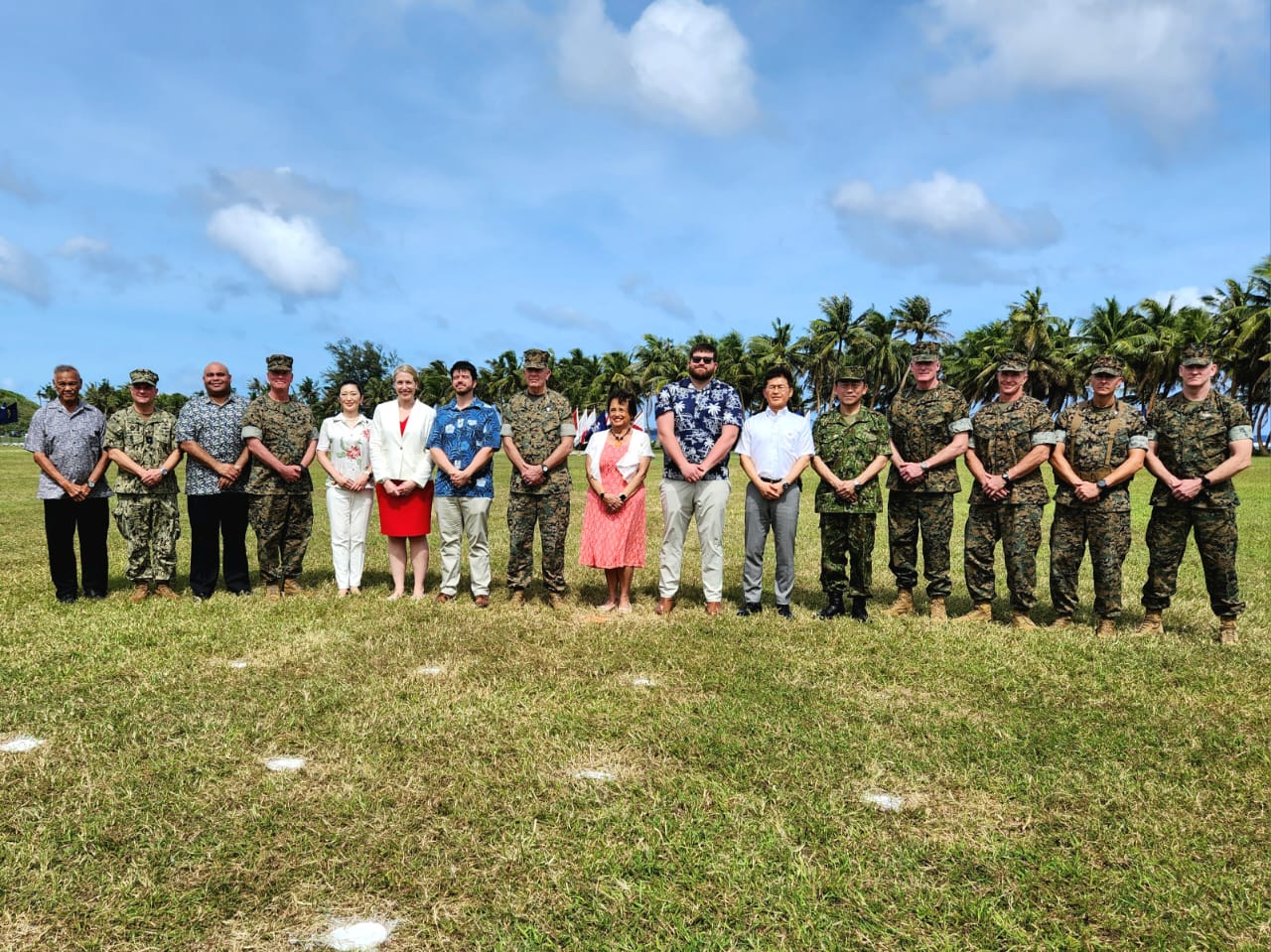 MilCon award includes Andersen Air Force Base
Pond-CDM Smith JV LP of Peachtree Corners, Ga., was awarded a $42.58 million firm-fixed-price task order for architect-engineer services. Work will be performed at Andersen Air Force Base and other base locations in Japan, Korea and Alaska.  The contract was a competitive acquisition and the 766 Enterprise Sourcing Squadron at Joint Base Pearl Harbor-Hickam, Honolulu, Hawaii, made the award Jan. 24, according to a Jan. 25 release from the U.S. Department of Defense.
In other DoD news
, the department released its Small Business Strategy Jan. 26.
Small businesses make up 99.9% of all U.S. businesses and "73% of companies in the defense industrial base," the release said. In 2022 small businesses were awarded more than 25% of all DoD prime contracts, the release said.
The Small Business Strategy link is
https://media.defense.gov/2023/Jan/26/2003150429/-1/-1/0/SMALL-BUSINESS-STRATEGY.PDF
The Office of Small Business Programs encourages those interested in working with DoD to read a "Guide to Marketing to DoD" on 
https://business.defense.gov
See also "U

ncle Sam wants you: Navy looking for local business partners

," in the

Nov 7

  issue of the Journal.
Grants:
Hawaii will receive a fiscal 2023 Compact Impact grant
of $15. 8 million from the U.S. Department of the Interior. "The federal funding will help defray the state's costs of providing services to citizens of the Freely Associated States who live in Hawaii," according to a Jan. 21 release from the Office of Insular Affairs and the Office of the Governor of Hawaii. Gov. Joshua B. Green officially accepted the grant during a visit to the state by Carmen G. Cantor, assistant secretary for insular and international affairs.
In fiscal 2022 about 16,300 residents from Palau, the
Federated States of Micronesia, and the Marshall Islands "received medical insurance coverage or premium assistance" from the Hawaii Department of Human Services, according to the release.
In December 2020, the U.S. Congress restored Medicaid eligibility for U.S. residents from those nations. However, "Eligibility for many of the safety net programs for these Pacific islanders was cut off, due to the 1996 Welfare Reform Act, which Hawaii's Congressional delegation has been working to correct," the release said.
Other U.S. Department of the Interior grants
announced during visits by Cantor to Guam and Saipan were a $6.5 million grant for design and construction of a facility for the Division of Environmental Health at the Guam Department of Public Health and Social Services and a $1.65 million grant in Compact Impact assistance for the Northern Mariana Islands.
The Northern Mariana Islands
has been awarded $83,655 to supplement emergency shelter programs through the Federal Emergency Management Agency under the Emergency Food and Shelter National Board Program.
The selection was made by a national board of non-profits and "community stakeholders" in the NMI will recommend how funds are to be distributed among emergency and shelter programs run by NMI service agencies in accordance with the grant terms.
Recent NMI recipients include Karidat Social Services, the Salvation Army, Empty Vessel Ministries, Team Koka (Tinian), The Ohala Foundation (Tinian) and the Marianas Food Bank. These agencies were responsible for providing thousands of meals and hundreds of nights of lodging and utility assistance, according to a Jan. 26 release.
Public or private voluntary agencies interested in applying for Emergency Food and Shelter Program funds should contact John Hirsh, at [email protected] or (670) 234-3459 for more information. The deadline for applications is Feb. 13.
Congressional updates:
James C. Moylan, Guam's delegate to Congress
, will serve on the House Armed Service Committee and the House Natural Resources Committee. He said with the latter "we will be focusing on issues that support the territories, inclusive of our fisheries, irrigation, and land."
Moylan also said on Jan. 18, "Our team is now focusing on being part of as many caucuses and conferences as possible, and this not only provides additional venues for networking to advocate for our issues, but these groups also have votes for members, which increases the leverage."
Amata Coleman Radewagen, American
Samoa's delegate to Congress, expressed pleasure Jan. 17 that U.S. negotiators reached initial understanding with the governments of Palau and the Marshall Islands on general financial terms to extend the Compacts of Free Association for the next 20 years.
Radewagen, who is co-chairman of the Congressional Pacific Islands Caucus, said,  "Importantly … these MOUs are not final commitments, but instead are milestones marking forward movement, in order to sustain momentum in negotiations that were on diplomatic life-support a year ago.  Along with my colleagues in Congress, there will be many questions I will have about what to expect as terms are worked out leading to final agreements."
Leon Guerrero-Tenorio Administration announces appointments
New cabinet members of the administration of Gov. Lourdes A. Leon Guerrero and Lt. Governor Joshua F. Tenorio were named Jan. 26. 
Clynton E. Ridgell
has been appointed deputy chief of staff for the Office of the Governor of Guam. He formerly served two terms as a senator: 35th and 36th Guam Legislatures; director of policy, planning and community relations at the Judiciary of Guam; and news director, anchor, and reporter at the Pacific News Center. Ridgell started his career in journalism as a reporter for KUAM News. He has a Bachelor of Arts in Communications from the University of Guam. 
Alice M. Taijeron
has been appointed executive director for CHamoru Land Trust Commission. She previously served as deputy chief of staff for Gov. Leon Guerrero; and president of the Guam Housing Corporation. Taijeron has a Master of Arts in Organizational Management from the University of Phoenix and Bachelor of Arts in Political Science from the University of Guam. 
Richard B. Arroyo
has been appointed deputy director for the Department of Land Management. He formerly served as special assistant at the Office of the Lt. Governor of Guam. 
Roy L. Gamboa
has been appointed as deputy director for the Department of Agriculture. He previously served as a business services representative for the Guam Department of Labor; sales, marketing, and operations manager for local media companies; and is the owner and general manager of a small business. Gamboa has an Associate of Arts in Management Studies from the University of Maryland Global College.
Jack E. Hattig III
has been appointed deputy director for the Department of Parks and Recreation. He formerly served as a senior planner at the Community Defense Liaison Office; special assistant to Governor Leon Guerrero; and director of the CHamoru Land Trust Commission. Hattig also served for 15 years with the Guam National Guard and has a Bachelor of Arts in Secondary Education from the University of Guam. 
In other GovGuam news… 
GBHWC to start testing new SMS system in February
The Guam Behavioral Health and Wellness Center will launch Feb. 7 a short message service system, servicing clients with immediate responses, reminders and rescheduling appointments. This will be an added service to clients on top of telemedicine and tele counseling, according to a press release issued Jan.25 by GBHWC. The $281 thousand pilot program is funded by the U.S. Department of Justice Coronavirus Emergency Supplemental Grant, the agency said.
For your diary:
Jan. 28: Hyatt Regency Guam Wellbeing Day and 30th Anniversary Kickoff
, 6 a.m. The day includes Beach Yoga with Synergy Studio Guam at 6.15 a.m., Evolt body scanning and rower fitness with TakeCare Insurance Co. at 7.15 a.m., Zumba at the Seaside Deck with the Pound Academy, and a Wellness talk on Mealtime by Chef Mirko Agostini at 8 a.m.
For further details on additional participating partners and Wellbeing Day, contact the hotel on (1-671) 647-1234.
The Hyatt will hold 30th Anniversary celebrations throughout the year under the theme "Together at 30,"
featuring different themes to include Well-being, Sustainability, Diversity, and Equity and Inclusion. mbj