BY OYAOL NGIRAIRIKL
Journal Staff
Koror, Palau — From the Marshall Islands to Ukraine, to New York, to the Northern Mariana Islands, Web3 explorers and innovators from around the world attended the Palau Blockchain Summit from Aug. 26 to 28.
Vitalik Buterin, the co-founder of Ethereum, was among roughly 60 attendees at the event, providing the keynote speech on the first full day of the summit, Aug. 27. 
A digital resident of Palau, Buterin said more countries are looking into creating digital residency programs.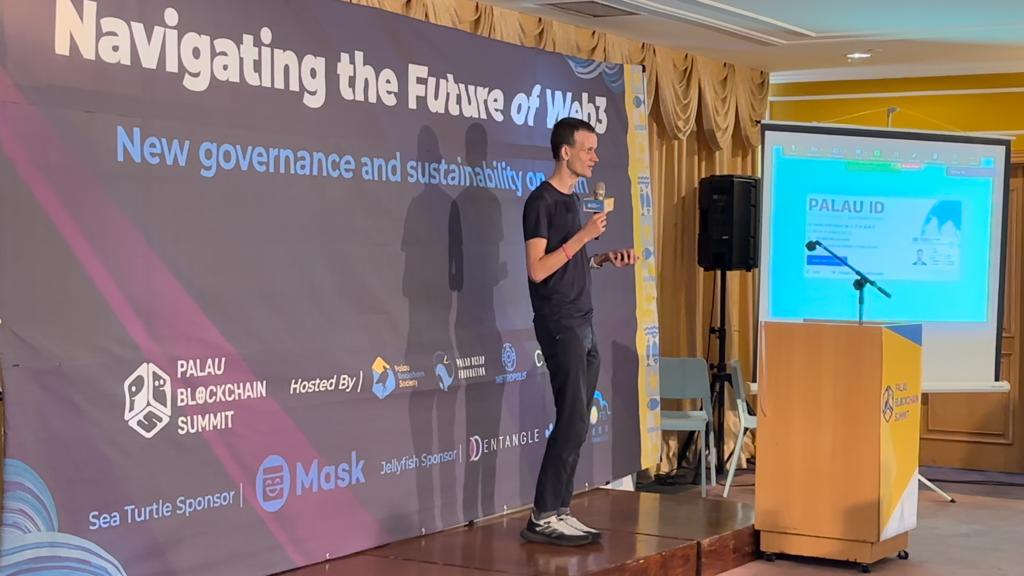 "Countries are interested in attracting people... to come and sometimes stay in person, (so they) create some kind of digital presence. The e-Estonia effort that happened in the last 10 years strikes me as a bit of an inspiration," Buterin said. "The Estonian government was saying that the future of nations is they can't just be physical nations, they have to be digital nations. ... so they offered this digital residency program."
He said there are different applications that can come with the program that give people around the world "a new opportunity to thrive."
"There's an increasing number of (digital) nomads," he said, referring to people who live for a few weeks or months in a certain location before moving somewhere new.
He applauded the nation's efforts in moving into the digital sphere with its digital residency program and Palau Stable Coin, which is a tokenized U.S. dollar.
President Surangel S. Whipps Jr. announced that Palau's digital residency program has reached 10,000 people from around the world. This was significant, he said, because that's roughly half of Palau's total population. The program itself has generated more than $1 million in what it collects in fees since its inception about two years ago.
Whipps said the digital space makes sense for Palau, which is a small nation. Palau's size allows it to adapt quicker to new technologies, he said, but also acknowledged the need for education within the general public and "summits like this help in educating us and also bringing us new ideas."
While the digital residency has taken off and Palau's government is looking at expanding that to take advantage of technology, the stable coin project is still in its nascent stages with its first pilot program still underway. 
The summit is the first of its kind to be held in the western Pacific. A digital-conscious local organization, the Palau Blockchain Society, together with the Palau Ocean Foundation, Metropolis Global and CURA hosted the event with the support of Ripple and Mask Network.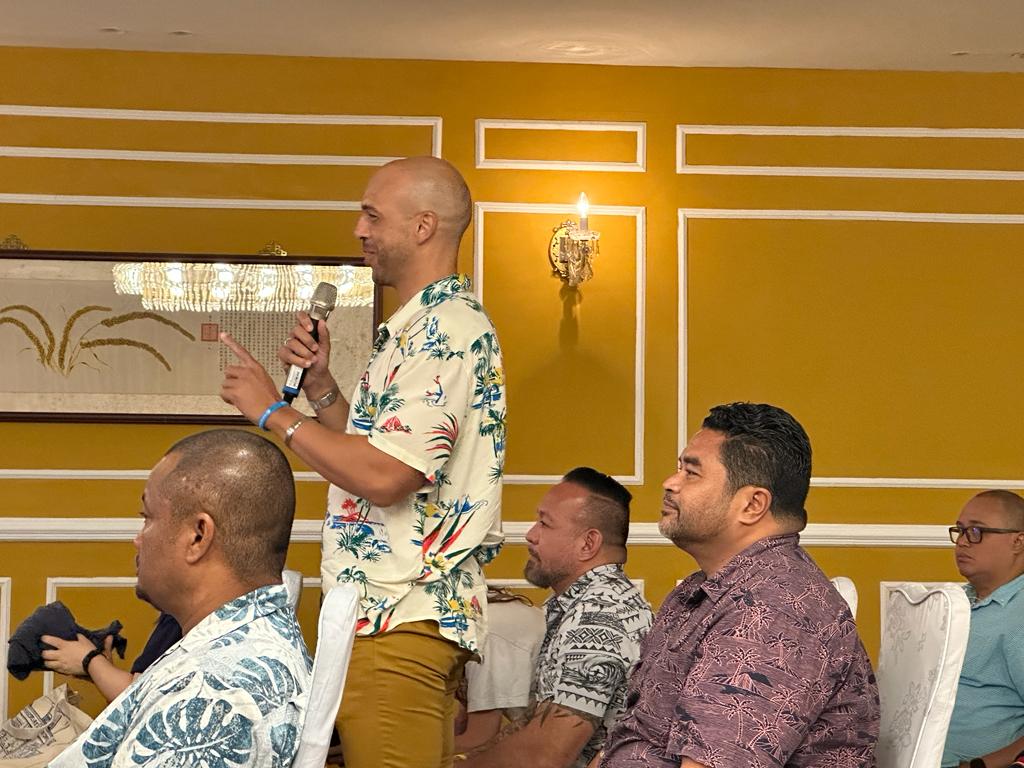 The event started with a welcome dinner on Aug. 26 and ended Aug. 28. Organizers called it a  "significant step for Palau as an emerging blockchain innovation hub in the Pacific region."
The summit at Palasia Hotel brought together a diverse array of attendees, including Sen. David Paul of Kwajalein in the Marshall Islands. RMI has passed several pieces of legislation that allow it to pursue financial technology initiatives.
Kodep Ogumoro-Uludong, a policy consultant from the Northern Mariana Islands, also attended the Blockchain Summit.
"I wanted to look at some opportunities in the digital space," he said. Palau entrepreneur Alan Seid had told him about the summit. Ogumoro-Uludong ended up attending with two colleagues.
"I'm not surprised that Palau is leading the region in another sector," he said. He was glad he had the opportunity to participate. "I take back with me so many new contacts in all of these new spaces I've discovered since attending. I'm still learning about blockchain and crypto currently, but it has been absolutely eye-opening.
"I've also come across opportunities to that could assist, potentially, some sectors in the CNMI," Ogumoro-Uludong said. "I'm very glad I took the opportunity to make valuable connections and gain some valuable insight into this space."
In addition to Buterin, the summit featured presentations that explored the numerous uses of blockchain technology in a range of industries. Participants discussed subjects including technologies in finance, governance, healthcare, real estate, and carbon credits, with a strong emphasis on sustainable development and how Palau can benefit by partnering and encouraging innovative projects.
Ripple Vice President James Wallis and Kaleb Udui, Palau Minister of Finance; both gave presentations and fielded questions in an open format, giving an opportunity for engagement for an audience eager to learn more about the Palau Stablecoin pilot program.
Participants emphasized the strategic significance of the island nation's geographic location among other factors in developing blockchain projects.
However, there also was a general agreement that Palau needed more direct flights to make it easier, cheaper and more convenient to travel to the nation.
Collectively, the summit participants saw the potential of Palau as a thriving hub for blockchain innovation that connects local know-how with international potential, according to event organizers.
"The summit's effect on local young students was one of its noteworthy features. These young minds were introduced to the world of blockchain technology and its possibilities through workshops created especially for them. The Palauan students' passion and engagement highlighted how important a role this event played in influencing the goals of the next generation," according to a press release. "The occasion demonstrated Palau's commitment to technical development as well as its capacity to lead surrounding countries as a beacon of innovation." 
mbj