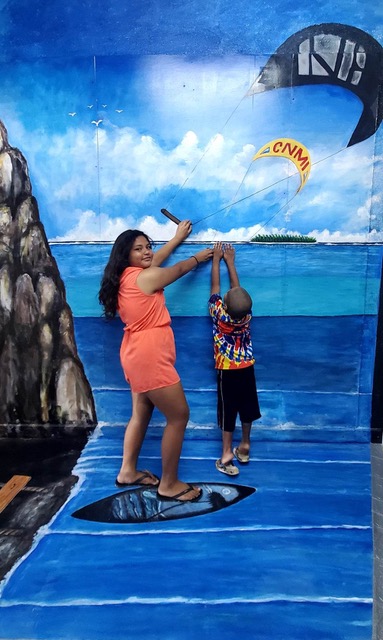 By MARK RABAGO
Saipan Correspondent
SAIPAN — A slew of new businesses have recently opened on Saipan, ranging from restaurants and snack bars to an appliance store, a laundromat, and even a 3-D art gallery. 
Fundemic Arts
Owner Patrick Fielded established the three-dimensional art gallery Fundemic Arts in Saipan on March 11.
The idea of Fundemic Arts bloomed following a visit to his parents' home country of the Philippines.
"It's an imaginative idea that when photographed from a certain angle, the optical illusion makes it seem like you're in the painting," he said.
Fielded commissioned Greg Bacnis and Ernie David, two renowned Filipino visual artists living on Saipan whose paintings have been featured at the Flame Tree Arts Festival and other competitions, to do the artwork for Fundemic Arts.
The gallery charges $7 for adults and $5 for children (5 to 12 years old).
Fundemic Arts is located on the first floor of the CDA Building (the former Morgan Building) along Beach Road in Oleai. It is open from 6 p.m. to 9 p.m. Thursday and Friday, and from noon to 6 p.m. on Saturday and Sunday. Any changes to its business hours will be posted on its social media page. For more information, contact
[email protected]
or visit the gallery's Facebook page, Fundemic Arts.
Savory Bistro Cafe
Savory Café and Bistro swapped its old and smaller Beach Road location for a new and larger space along Middle Road.
Along with the address change, Savory Café and Bistro is also now known as Savory Bistro Cafe. 
Despite the change in name though, owner Jennifer Elayda said the bestselling American, Japanese, Filipino, and Korean menu will continue to be the café's calling card.
The old/new establishment held a grand opening on April 13 with more than 100 guests in attendance. 
Elayda said aside from the restaurant, the building also serves as the new home for its sister business, a construction, cleaning, and manpower company. 
Savory Bistro Cafe is located beside Pacific Quick Print along Middle Road in Garapan. It's open from 10 a.m. to 2 p.m. and 5 p.m. to10 p.m. daily. For more information or for reservations, call (670) 233-6143. You can also message the café through Facebook.
New Midea Appliance
New Midea Appliance is now the official seller of China's No. 1 brand of appliances. The company opened its new store and showroom along Middle Road on April 28.
Manager Hai Wang said New Midea Appliance currently carries air conditioning units, refrigerators, washing machines and dryers, and small appliances like microwave ovens.
Coming soon are more items like the newest models of Midea flatscreen TVs (of all sizes), stove top ranges, electric fans (tower, wall, ceiling, desk, stand), exhaust fans, chest freezers, among other appliances.
New Midea Appliance is located across Pacific Quick Print in Garapan and is open from 8am to 5:30 p.m. Monday to Saturday. With the new location comes promotional prices – all items in the store are 20% off.
For more information, call New Midea Saipan at (670) 233-1666.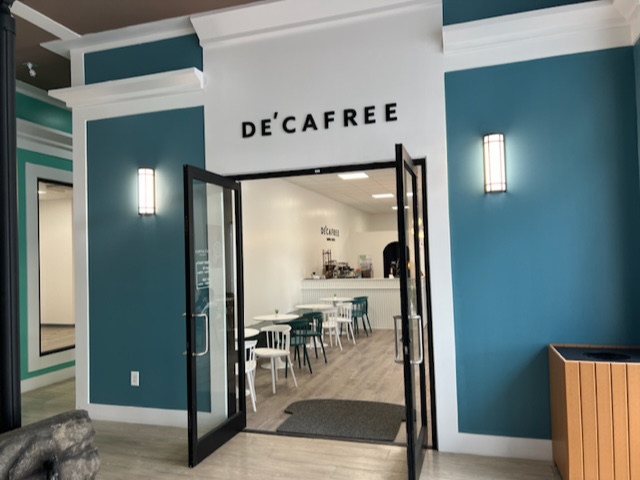 De' Cafree Coffee
De' Cafree Saipan started percolating on April 29 at the corner of the newly opened Town House Shopping Center in Chalan Kanoa.
Manager Soo Woan Jun said the De' Cafree Saipan, which can seat 42 people, was borne out of his and his wife's desire to serve coffee brewed from beans sourced from South American countries like Brazil, Columbia, and Guatemala.
De' Cafree Saipan currently offers hot and cold espresso, Americano, cafe latte, vanilla latte, choco latte, caramel, and machiato. 
Also on the menu is tea that infused with fresh ingredients, including lemon, citron, grapefruit, honey jujube, and chamomile. They also have peach iced tea and other specialty drinks like Dutch, cold brew latte, strawberry latte, berryberry ade, lemonade, and grapefruit ade. They also serve sandwiches, waffles, and Korean donuts.
De' Cafree Saipanis open from 8 a.m. to 8 p.m. daily and is located next to Kentucky Fried Chicken/Taco Bell at the Town House Shopping Center in Chalan Kanoa.
For more information about De' Cafree Saipan, call (670) 235-5936/(670) 483-5936. The business can also be reached via Facebook and Instagram.
Mhel's Bento & Catering
A humble snack bar called Mhel's Bento is giving Filipinos on Saipan a taste of home.
Opened on April 10 and named after its owner, Emily "Mhel" Javier, Mhel's Bento has slowly made a name for itself for its silog meals (sinangag is fried rice and itlog is egg in Filipino). The most famous variants are homemade tapa, tocino, and imbotido dishes. They all come with complimentary coffee. 
Like all Pinoy eateries on Saipan, Mhel's Bento also has one- and two-choice breakfast and lunch bentos, that cost $5 and $7, respectively.
Mhel's Bento, located along Middle Road near the Gregorio T. Camacho Elementary School in San Roque, has a two-table setup for dine-in customers and is open from 6 a.m. to 6 p.m, on Monday to Saturday. For more information, call (670) 789-3265.
JTM Snack Bar
Another Filipino food establishment that opened recently is JTM Snack Bar & BBQ Grill & Catering Services in Garapan.
The catering service traces its roots from JHEMS Restaurant, a famous binalot restaurant on Saipan. Binalot is a method of wrapping and serving food in the Philippines using banana leaves and aside from the viand, it comes with fried eggplant, bagoong alamang (shrimp paste), tomatoes, and salted egg.
While the business has plans to eventually open as a full-service restaurant like its progenitor, JTM Snack Bar for now is a take-out and catering establishment.
Aside from its famous binalot meals, the restaurant also serves Pinoy fiesta staples like pancit (canton, bihon, and malabon), beef and pork caldereta, beef and pork steak, spicy pork spareribs, fried chicken, chopsuey, menudo, kare-kare, dinuguan, lumpiang shanghai, fresh spring rolls.
JTM Snack Bar & BBQ Grill & Catering Services is open from 11 a.m. to 9 p.m. daily. It's located behind R&J Wine, Liquor & Tobacco along Beach Road in Garapan. For more information, call (670) 785-0716 or email
[email protected]
.
LW new & used
LW new & used opened in Koblerville late last year after the two co-owners were forced to take the entrepreneurial route after losing their jobs as travel agents.
Second-hand furniture, microwaves, refrigerators, shelves, aquariums, coolers, tents, cabinets, desks, office chairs, patio furniture, decorative pieces, pet cages for cats, dogs, birds), and other items like power tools, among others, currently fill the store. 
But unlike co-owner Steven Wang's second choice of a career, LW new & used doesn't exclusively only sell second-hand furniture as the pair have been slowly augmenting their stock with new items from China.
LW new & used is located along Chalan Monsignor Martinez just before the road leading to Paradiso Hotel in Koblerville. It is open from 9 a.m. to 6 p.m. Monday to Friday, from 2 p.m. to 6 p.m. on Saturday, and from 10 p.m.to 3 p.m. on Sunday. For more information, call (670) 288-8606.
EC Laundry
EC Laundry is a recently opened no-frills laundromat ready to serve the residents of Koblerville.
The laundromat opened in early March and boasts 11 5-gallon, seven 8-gallon, and two 10.5 gallon front-loading washers, as well as 18 high-performance dryers. 
Unlike other laundromats on island, EC Laundry is equipped only with new models from the U.S brand SpeedQueen. 
EC Laundry is also conveniently located right next to Koblerville Market, where customers can buy their laundry soap, dryer sheets, and fabric softeners. 
EC Laundry is located along Koblerville Road next to Koblerville Market and across the Koblerville fire station in Koblerville. It is open daily from 7 a.m. to 10 p.m. For more information, call (670) 788-2268.
Mbj