Palau-Singapore flights discussed; delegation travels to Taiwan
President Surangel S. Whipps Jr. met with Barathan Pasupathi, CEO of Jetstar Asia Airways Pte. Ltd.; and Capt. Lui Geoffrey, chief pilot of the airline in Singapore, just before boarding his flight out of Singapore on Oct. 5.
They discussed potential flights from Singapore to Palau, and having connecting flights to other countries, including Australia and Japan, according to the Office of the President.
The meeting follows the signing of the air services agreement signed by Palau and Singapore on Oct. 3.
Founded in 2004, Jetstar Asia Airways is a low-cost airline and one f the Asian offshoots of parent company Jetstar Airways, the low-cost subsidiary airline of Australia's Qantas Airways Ltd.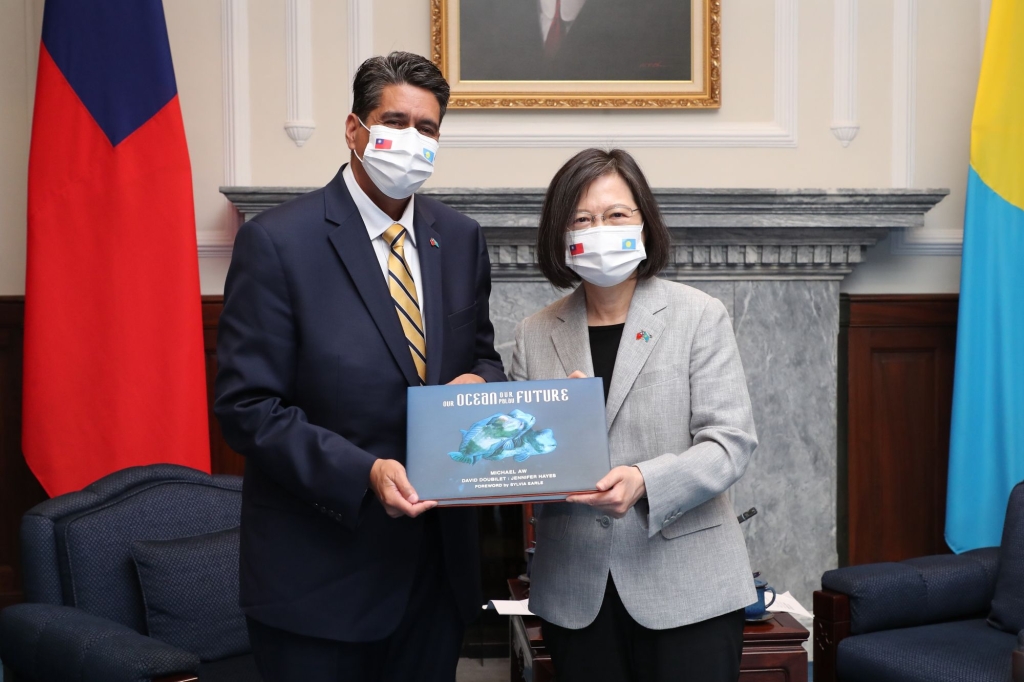 In related news and as earlier reported, Whipps flew to Taiwan for the country's national day. According to his office, on Oct. 6, leaders from Palau and Taiwan signed the following cooperative documents:
An agreement on public finance cooperation
A Letter of Intent for tourism revitalization
A Letter of Intent for aquaculture development
An agreement concerning the acceptance of seagoing service, education and training of seafarers in the Republic of China and certification by the Palau International Ship Registry, under the International Convention on Standards of Training, Certification and Watchkeeping for Seafarers 1978, as amended.
Also part of the Palau delegation were Minister of State Gustav Aitaro; Minister of Finance Kaleb Udui Jr.; Minister of Human Resources, Culture, Tourism and Development Ngiraibelas Tmetuchl; Minister of Agriculture, Fisheries and the Environment Steven Victor; Council of Chiefs Representative Ngirturong John Sugiyama; Chairwoman of the Senate Ways and Means and Financial Matters Committee Rukebai Kikuo Inabo; and Chairwoman of the House of Delegates Health, Social and Cultural Affairs Committee Victoria N. Kanai.  
More military maneuvers
U.S. Submarine Group 7/Task Force 54/CTF 74, "conducted bilateral talks with the Republic of Korea Navy at Polaris Point, Naval Base Guam as part of the 55th iteration of the Submarine Warfare Committee Meeting" with the Republic of Korea's Submarine Force from Sept. 26 to Sept. 30, according to an Oct. 5 post by Submarine Group 7.
Rear Adm. Rick Seif, commander, Submarine Group 7 met with Rear Adm. Su Youl Lee, commander of the Korean Navy's submarine force, as part of "a slate of tours, meetings, and integrated activities for both U.S. and ROK submariners." Events included a roundtable of women submariners, and a tour of the USS Emory S. Land submarine tender.
Guam tourism associations to host forum
The Guam Travel & Tourism Association and the Guam Hotel & Restaurant Association will host the "For Guam" 2022 Tourism Forum on Oct. 18 from 9 a.m. to 11 a.m. at the Rhiga Royal Laguna Guam Resort. The event will be in-person and via Zoom.
The event will feature tourism industry information, a focus on "what has transpired within the past few months and what it will take to sustain and to help grow the industry into 2023," according to the two groups. The University of Guam's will share an economic survey of "the conditions of the majority of businesses in the industry."
Register at https://guamtraveltourism.org/forum-registry.html
Saipan Chamber announces 2023 board nominees
Nominees for the Saipan Chamber of Commerce's November elections are John Z. Arroyo, president and CEO of the Bank of Saipan; Joseph C. Guerrero, co-owner of Naked Fish Bar & Grill; Donna Krum, owner, Friends First Marketing; Ron Smith, president, Angil Design Inc.; Janice M.A. Tenorio, customer service and government relations manager, IT&E; and Shayne Villanueva, owner, Roil Soil Marketing.
Guam port gets MARAD money
The U.S. Department of Transportation's Maritime Administration awarded Guam $5.7 million in grants under the America's Marine Highway Program, according to an Oct. 7 release.
Grant funds will go toward expanding the Port Authority of Guam's fleet of specialized container yard equipment, which includes two 40-ton loaded container handlers, three 10-ton empty container handlers, five 5.5-ton forklifts, one 180-foot boom lift, nine container yard tractors, and two 40-plug mobile reefer generators. Specifically, $5,703,560 will go to the Guam Marine Transportation Enhancement Initiative.
In other Government of Guam news, the Office of the Governor announced Oct. 7 a third "boot camp" for bus drivers for the Guam Department of Public Works and the Guam Regional Transit Authority.
The deadline to apply is Oct. 21. Participants will undergo paid training for up to 480 hours to earn certification in bus driving, a chauffeur's license, and a commercial driver's license.
Applicants will sign up and can find requirements at the American Job Center at the GCIC building. The second Bus Driver Boot Camp is currently underway.
NMI to assist about 1,800 fishermen with CARES Act funds
CARES Act Fishermen Relief Assistance Program Part 2 checks in the Northern Mariana Islands will be distributed as soon as funding is received, according to an Oct. 7 release from the Office of the Governor.
More than 2,400 applications were given out and a total of 1,825 applications were received. Only seven out of nine commercial fishing businesses will receive assistance amounting cumulatively to $29,819.93 and a total of 1,805 Subsistence fishermen will receive a check for about $204.17. This figure is up 53% from last year's total subsistence fishermen pool. The total allocated to the NMI was $411,002, which is about $600,000 less than last year's funding availability. About $8.52 will be returned to the PSMFC due to overage.
 last year's funding availability. About $8.52 will be returned to the PSMFC due to overage, according to the release. The lower amount is attributed to lax of applicant tax documents.
Red Cross seeks Hurricane Ian support
The American Red Cross Guam Chapter has deployed a volunteer to Florida to assist in the disaster response to Hurricane Ian. More volunteers are deploying shortly, according to an Oct. 5 release.
The Guam Chapter is calling for donations to assist recovery on (671) 472-6217/9 or (671) 688-0280.  Checks can be made payable to the American Red Cross, with designation Hurricane Ian.
For your diary:
Oct. 17 to Oct. 21 – The Guam Department of Agriculture and Guam Animals in Need will host another community spay-neuter event at the Hagat Community Center, with the aim of. performing 40 surgeries per day, for a total of 200 surgeries in five working days.  
Surgeries for dogs and cats will be by appointment and cost $50. For appointments, visit www.snipclinicguam.com. For assistance with scheduling, email [email protected], or call/Whatsapp 671-988-9421 Monday to Thursday from 9 a.m. to 3 p.m. Volunteers can sign up at www.snipclinicguam.com/volunteer – no experience needed. mbj