Look who visited the Mariana Islands
A Congressional Delegation was in Guam on Oct. 4, comprised of Congresswoman Debbie Wasserman Schultz (D), chairwoman of the Appropriations Subcommittee on Military Construction; Rep. Edward E. Case (D) of Hawaii; Rep. David G. Valadao (R) of California and Rep. Randall L. Feenstra (R) of Iowa. The group was to conduct "an inter-island assessment of military construction needs in the region," according to an Oct. 4 release from Michael San Nicolas, Guam's delegate to Congress. He "emphasized the need for attention to be placed not only on missile defense initiatives, but on funding veterans healthcare facilities as well," in the release. San Nicolas said the CODEL is the third such group to visit in four years.
The afternoon of Oct. 4, the delegation traveled to Tinian – the site of a divert airfield. Congressman Gregorio "Kilili" Camacho Sablan was due meet them on the island, and Rear Adm. Benjamin R. Nicholson traveled with the group to Tinian.
Military exercises continue in Guam as North Korea continues missile launches
U.S. Army Pacific soldiers assigned to the 2nd Battalion, 27th Infantry Regiment, 3rd Infantry Brigade Combat Team, 25th Infantry Division from Schofield Barracks, Oahu completed an "emergency deployment readiness exerciseto Andersen Air Force Base" from Sept. 23 to Sept. 28.
A U.S. Air Force C-17 with the 21st Airlift Squadron, 60th Air Mobility Wing from Travis Air Force Base, Calif. and one C-17 with the 3rd Airlift Squadron, 436th Airlift Wing from Dover, Del., transported about 100 soldiers, seven pallets of equipment and an off-road tactical vehicle from Hawaii to Guam, according to an Oct. 1 post.
The exercise followed live fire training exercises at the end of September in Guam by the Reserve EA-18G squadron, VAQ-209, currently forward-deployed to Japan, according to a post from Andersen.
North Korea fired a ballistic missile off its east coast Oct. 4, according to the offices of Guam Homeland Security and Guam's Office of Civil Defense – which overflew Japan. The missile launch is the fifth in 10 days, follow trilateral anti-submarine exercises of the U.S., South Korea and Japan and a visit to the region by U.S. Vice President Kamala D. Harris.
Palau and Singapore sign Open Skies agreement
President Surangel S. Whipps Jr. signed an air services agreement with Singapore's Minister of Transport S. Iswaran on Oct. 3. The open skies agreement between Palau and Singapore allows airlines from either country to provide passenger and cargo services between the two countries and beyond.
Whipps is leading a delegation to Taiwan for the Double Ten National Day celebrations, arriving on Oct. 5, according to Taiwan's Ministry of Foreign Affairs.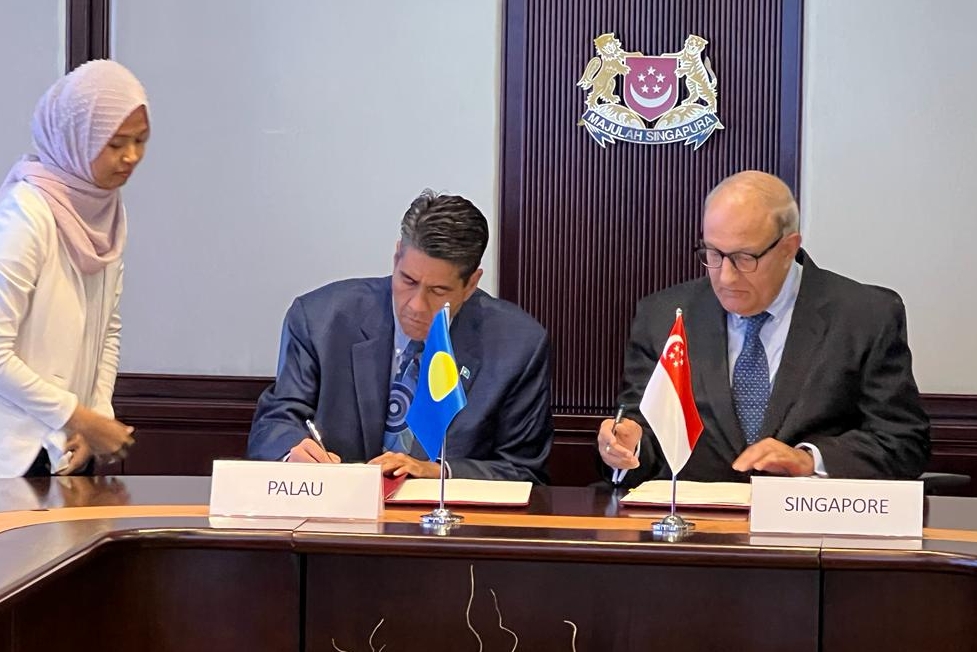 EU updates tax "blacklist"
The European Union updated its list of "non-cooperative jurisdictions for tax purposes on Oct. 4.
Guam and Palau remain on the list, which – for the first time – includes Anguilla, the Bahamas and the Turks and Caicos Islands.
Remaining on the list are Fiji, the U.S. Virgin Islands, Vanuatu and Samoa, as well as Panama. The Marshall Islands was removed from the list in October 2019 (together with the United Arab Emirates), according to Journal files.
 
Declaration lays out future between Pacific countries and US
The declaration following the U.S.-Pacific Island Country Summit held in Washington, D.C. on Sept. 28 and 29, laid out the aims for future relations, based on a unified strategy as an addendum to the Indo-Pacific Strategy and in alignment with the Pacific Island Forum's 2050 strategy for the Blue Pacific Continent. These include:
 
Executive education for "rising" Pacific leaders in public service. This is in partnership with the University of the South Pacific and "premier universities in the United States, such as the University of Hawaii and the University of California, Santa Barbara."
NOTE: No mention is made of the University of Guam, but nor is it excluded.)
Supporting the Tuna Treaty.
An expectation that the renewed Compacts of Free Association with the Federated States of Micronesia, Palau and the Marshall Islands will be concluded this year.
Appointing a U.S. envoy to the Pacific Islands Forum, "to expand U.S. ties and coordination with the Pacific Islands Forum and its members.
Elevating USAID presence in the Pacific. USAID has offices in the FSM, the Marshall Islands and Palau.
Return and Expansion of the Peace Corps to Fiji, Tonga, Samoa and Vanuatu.
NOTE: Congress is supporting the program for those areas. Previously, Peace Corps programs included the FSM, the Marshalls and Palau.
 
In recent years, the Japan International Cooperation Agency has sent volunteers and experts to those countries. In 2015, Japan launched the Pacific Leaders' Educational Assistance for Development of State (or Pacific LEADS) for young leaders. The East West Center in Hawaii also sponsors a Pacific Island Leadership program with Taiwan.
Take action on the climate crisis, clean energy and sustainable infrastructure through financial support to build resilience and expand weather and ocean data collection.
More than $50 million "in direct support for Pacific Island recovery" to enable strong growth.
Stated aims include promoting trade and addressing barriers, support for infrastructure, a and a focus on technology solutions, and transportation needs.
Investment in maritime security and protection, to include FBI-led law enforcement training – already launched in the FSM, the Marshall Islands and Palau – to other islands.
Improvement of digital connectivity and cyber security.
Addressing war legacies, such as unexploded ordnance. "In Palau, the United States just provided $1.1 million to continue its support to a sustainable national UXO clearance program through the National UXO Safety Office.
NOTE: The Norwegian People's Aid has been in Palau since April 1,2015 and works there to develop "the knowledge and skill to take care of the types of ammunition left over from World War II," according to Journal files.
Source: Roadmap for a 21st-Century U.S.-Pacific Island Partnership Fact Sheet
In related news, Gov. Lourdes A. Leon Guerrero is looking forward to additional discussions with U.S. officials, following a recent trip to Washington D.C. to participate in the U.S. Pacific Island Countries summit. The governor was invited as a U.S. participant to the summit, which included a long list of leaders of Pacific island nations. This is President Joseph R. Biden Jr.'s first such invitation to Pacific Island nations and comes in the midst of geo-political events in the region that has prompted the U.S. to respond.
The governor said she was honored to be seated near Secretary of State Anthony J. Blinken. She surmised this was likely because of Guam's role as a key player in the defense of the Indo-Pacific region. Additionally, she said, she has built a good relationship between her administration and the Biden administration, as well as the leadership of island nations in the Pacific region.
She noted the U.S. is committed to working with the island nations, helping them to boost their economies and step-up efforts to assist with utilities infrastructure, health, education as well as maritime security. There's an anticipated $815 million in U.S. federal funds that is expected to be distributed to the nations, primarily to assist with climate change, the governor said.
In addition, she said the U.S. will be reinstating the U.S. Peace Corps program in the region. She called the forum successful, but noted that all agreed that this is just a first step. Many of the participating nations asked that this meeting be held annually or even biannually to help ensure consistent communication and dialogue.
"The outcome of the meeting was a declaration of partnership," the governor said, noting that Guam is glad to assist with future discussions.
Archdiocese of Agana confirms restitution to survivors of abuse to begin
With Chief Judge Frances Tydingco-Gatewood approving the confirmation of the Fifth Amended Joint Plan of Reorganization on Oct. 4, "the process to make restitution to victim survivors of clergy abuse on Guam can begin," the Archdiocese of Agana confirmed in an Oct. 5 release.
Attorney Ford Elsaesser, lead legal counsel for the Archdiocese of Agaña's Chapter 11 Reorganization is quoted as saying the amount that the victim survivors trust fund will receive would be in the range of at least $34 million to $45 million. "The final amount would be dependent on the actual sum that the sale of respective archdiocese properties would bring in," the release said.  
The settlement amount includes cash contributions from the combined Catholic schools and parishes, archdiocese properties that are being transferred to the victim survivors trust fund, and funds from insurance of the archdiocese. Family members of victim survivors will receive school vouchers for students in grade levels K to 12 and cemetery plots. Transfer of money and assets to the trust fund is estimated at between 45 to 60 days.
DPHSS continues focus on childcare centers and food establishments
The Guam Department of Public Health Division of Public Health inspected 16 establishments the week of Sept. 19, of which nine were childcare centers. Other facilities were a school, four temporary food establishments, one temporary work force housing facility and one manufacturer – Nature's Spring water, which saw operations suspended. Five childcare centers and three temporary food establishments saw comments, as did the workforce housing facility.
And also:
The minimum wage in Hawaii is $12 per hour, as of Oct. 1. It's set to increase to $14 per hour from Jan. 1, 2024.
The U.S. Department of Transportation's Federal Aviation Administration issued a final rule Oct. 4 requiring that flight attendants receive longer periods of rest between shifts. The new rule – which must be implemented within 30 days – increases the rest period to 10 consecutive hours from nine consecutive hours.
The U.S. Department of Agriculture announced Sept. 30 that farmers and agricultural producers may apply for grants under the Fertilizer Production Expansion Program, which will offer $500 million in grants to "increase American-made fertilizer production, spur competition and combat price hikes on U.S. farmers caused by the war in Ukraine."
For more details, see https://www.rd.usda.gov/programs-services/business-programs/fertilizer-production-expansion-program
For your diary:
Oct. 8: 5.15 a.m. University of Guam 2k/5k run and fundraiser, Skinner Plaza, register at Guam Premium Outlets until Oct. 7, or on race day.
Oct. 9: Guam's fiestas are back: Yona and Humåtak's Fiesta is scheduled for Sunday, Oct. 9. The event is from 11.30 a.m. to 3 p.m., and includes a fiesta table, entertainment and a village tour. mbj